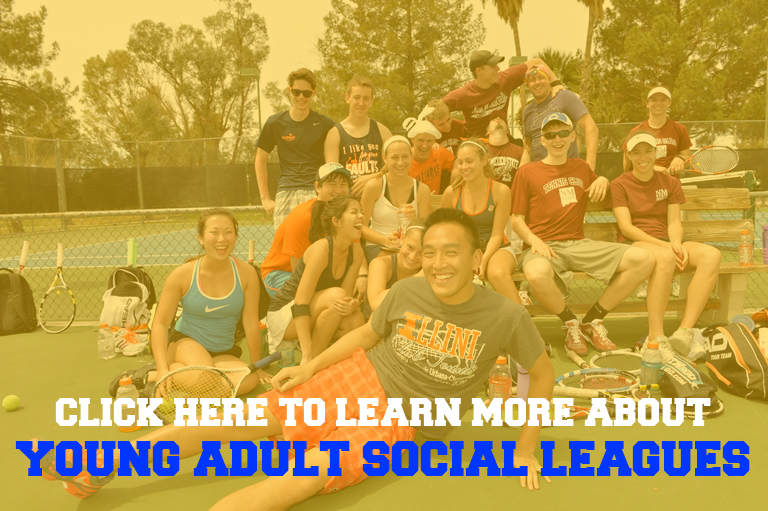 THE FUN & FRIENDSHIPS CONTINUE

This is your chance to stay connected and competing with your friends long after you've walked across the stage.

With USTA Tennis On Campus Alumni Events, you get to experience:

Coed Play!
Great Socials!
Increased Networking Opportunities!
Localized Events!
Convenient Formats!
USTA TENNIS ON CAMPUS ALUMNI EVENTS & YOUNG ADULT LEAGUE OFFERINGS
USTA Section
Date
City
Contact
Eastern (Sets in the City)
Various
Albany, NY
Westchester, NY
Samantha Chin

Mid-Atlantic
Various
Various
Shell Wood

Midwest
TBD
TBD
New England (Boston Social Tennis League)
Various
Boston, MA
Sarah Rice
Northern

Various
Twin Cities:
Mixed Doubles
Slam Series
Drop In & Play
Brandon Jackson
Southern
Summer
Fall
Atlanta, GA
Wilmington, NC
Atlanta, GA
Susan Pierce
Travis Sandman
Lindsey Davila
Southwest (Sets in the City)
Various Seasons
Albuquerque, NM
El Paso, TX
Glendale, AZ
Santa Fe, NM
Scottsdale, AZ
Tucson, AZ
Laura Stussie
(480) 289-2351 x105
Texas (Social Tennis)
TBD
Austin
Dallas
Houston
Midland
San Antonio
Megan Longbotham-Young
WANT MORE?

Interested in participating, but don't see something in your area? We're looking to expand our list of events. If you played club tennis in college and would like to start a TOC Play Group in your town click here.

Not ready yet? Click here to fill out an interest form so we can alert you to upcoming events.