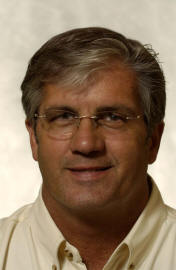 Dave Shook,
Lehigh University
Chris Young,
Wichita State University
Dave Shook, Lehigh University men's and women's tennis coach, is the national winner of the USTA/ITA Campus Recreation Award, and Chris Young, Wichita State University director of tennis, has been named the national winner of the USTA/ITA Community Service Award.  They were honored Dec. 15, 2006, at the ITA Coaches Convention at the Doral Golf Resort and Spa in Miami, during the ITA Membership and Awards Banquet.
The USTA/ITA Campus Recreation Award honors an ITA coach who has done an outstanding job implementing recreational tennis programs on campus in an effort to grow tennis participation.  The USTA/ITA Community Service Award honors an ITA coach for significant contributions in developing community-based tennis programs.  This year's national winners were selected from a group of USTA sectional winners determined last fall.  These awards, which began in 2003, were open to more than 2,000 ITA head and assistant coaches at the NCAA Divisions I, II, and III, NAIA and junior/community college levels.
"Dave and Chris are great examples of coaches who give back to their communities and campuses," says ITA Executive Director David A. Benjamin.  "We strongly believe that community service and campus recreation programs are vital for today's college coach to become involved in, and these awards help highlight the coaches who have gone above and beyond in their efforts."
Shook has done outstanding work growing tennis on the Lehigh campus.  He started a club tennis program that has grown to more than 100 players in just a few years and includes a traveling team that competes in matches and tournaments throughout the year.  He holds an annual walk-on tournament for a spot on the varsity teams and assists the players who do not win the tournament in becoming involved with the club team.  Shook also helps organize "Friday Night Tennis Parties" on the Lehigh campus, offering the student body fun, non-alcoholic alternatives.
Young has spent countless hours working to promote tennis in the Wichita area with fresh, new programs and events throughout the year.  Just a few of the numerous programs he has been a part of include: tennis carnivals, the formation of a doubles league for Wichita State faculty and staff, and assisting the Tennis On Campus program at Wichita State.
"The USTA is proud to be associated with these very special coaches," says Glenn Arrington, USTA National Manager, Collegiate and Corporate Tennis.  "We recognize the many challenges varsity tennis coaches face and tip our hat to those who go above and beyond the call of duty like this year's winners have.  The extra efforts coaches put into their campus and community activities pay dividends for everyone involved in and around the sport of tennis."
USTA/ITA Campus Recreation Award - Section Winners
Eastern: Ira Miller, Fairleigh Dickinson University
Middle States: Lori Sabatose, Clarion University
Midwest: Al Wermer, University of Toledo
New England: Chuck Kinyon, Dartmouth College
Pacific Northwest: Gail Patton, Southern Oregon University
Southern: James Cuthbertson, Johnson C. Smith University
Southern California: Paul Settles, Claremont-Mudd Scripps Colleges