By: Steve Pratt
Duke Beats Virginia, 26-23, to Win USTA Tennis On Campus Fall Invitational. After Suffering Heartbreak Defeat to the Cavaliers Last Year, the Blue Devils Hang On To Win Final As Both Schools Win Automatic Bids Into 2013 TOC Nationals.
The sting of losing in last year's USTA Tennis On Campus Fall Invitational championship match never really left the returning players for Duke University.
On Sunday, many of the same Duke players who experienced that tough loss one year ago were able to avenge that defeat and celebrate a huge 26-23 victory over defending champion Virginia on Sunday in the final of the third annual event held at the Palmetto Resort Tennis Center.
With victories in the morning semifinals, both Duke and Virginia captured automatic qualifying bids into next April's USTA Tennis on Campus National Championships to be held in Surprise, Ariz.
"We feel like we kind of have a friendly rivalry with Virginia," said Duke's senior captain Stephanie Dudzinski from Peculiar, Mo. "We are both from different USTA sections but we tend to run into them a lot at these big events. I know our guys waited a full year for this match. It feels great to get into Nationals by winning the Fall Invitational."
Leading 20-18 entering the final mixed doubles portion of the match, Dudzinski teamed with Ernesto Traulsen of Geneva, Switzerland, and quickly went up 5-3 against the Virginia pairing of captain Derek Gale and Faby Chaillo. But Gale and Chaillo broke Traulsen's serve and held for a 5-all tie. Duke pulled out the tiebreaker 5-3 to clinch the title.
"It was nervous-time at the end," Traulsen said. "This was our goal when the season started, to win the Fall Invite and qualify for Nationals. But winning Nationals is obviously the top priority now."
The team practices on the Duke's courts on campus at Chapel Hill, N.C. Other key members of the team include women's singles player Jennifer Huang of Chapel Hill and Jaisal Mariwala from India.
"We gave it all we had and came up a bit short," Virginia's Gale said. "It's a tough one to lose, for sure. We got down a bit in doubles and could never recover. They are a solid team and we hope to see them again at Nationals."
Meg Inscoe, a 28-year-old kinesiology grad student from Athens, Ga., is back on the Georgia team after a four-year layoff. She was recognized as the oldest player taking part in the event on Sunday and helped lead the Bulldogs to the championship title in the Silver Bracket.
Inscoe played for the Bulldogs club team from 2006-08. "I'm a lot older than the other kids on the team, but I love it," she said. "I've enjoyed coming back and playing on the team again."
Growing up in Athens, Inscoe attended many an NCAA Championships match in her youth. "I wasn't good enough to play on the team, so this was second-best," she said, adding that she feels like part of the University of Georgia tennis community and assists at the summer Manny Diaz Tennis Camps.
Central Florida junior Leonard Lopez admits he's a better tennis play than dancer, but he still managed to finish second in the dance-off Saturday night at the popular Player Party held on the courts of the Palmetto Dunes TC courts. "What a great experience and atmosphere this weekend, said Lopez, who danced to the song "Sleepy Head" by Passion Pit. "You really couldn't ask for a better weekend."
There was a tie for the Sportsmanship Award voted on by the teams with Ferris State University and College of Charleston (A) taking home the honor.
To view all the scores and draws from the first two days of play, go to:
http://tennislink.usta.com/Tournaments/TournamentHome/Tournament.aspx?T=133326. For more information about the USTA Tennis On Campus program visit www.tennisoncampus.com.
This event marked the third consecutive year that the USTA Tennis on Campus program has hosted a season-opening event, with 32 teams from across the country participating in the tournament. The event is designed to give students a chance to compete with other college club tennis teams from across the country, to learn about career opportunities from the Tennis Industry Association and the Professional Tennis Registry and provide an opportunity to claim an automatic bid into the National Championship. Following the tournament, schools continue to compete around the country on a sectional level, within the USTA's 17 sections.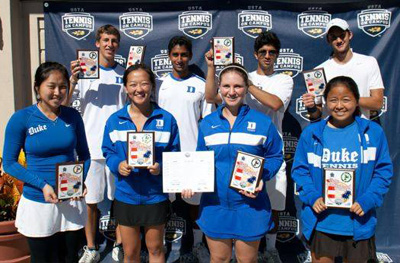 Duke University defeated defending champions UVA to capture the
title at the 2012 Fall Invitational. Photo By: Thomas Love / TR Media
Sunday's Results:
GOLD BRACKET
Championship Match: Duke def. Virginia, 26-23
Semifinals: Virginia def. Colorado School of Mines (A), 27-12
Duke def. Central Florida A, 26-18
3rd-4th Place Match: Central Florida (A) def. Colorado School of Mines (A), 24-15
5th-6th Place Semifinal Match: UNC-Greensboro def. Clemson (A) 24-12
Cincinnati def. College of Charleston (A), 28-12
5th-6th Place Final Match: Cincinnati def. UNC-Greensboro, 24-17
Consolation Match: Kentucky def. Auburn, 30-12
Consolation Semifinals: Auburn def. NC State, 29-13
Kentucky def. Tennessee, 22-21
SILVER BRACKET
Championship Match: Georgia def. Elon, 23-19
3rd-4th Place Match: Ohio State def. UNC-Charlotte (B) by default.
5th-6th Place Match: Dayton def. Ferris State (A), 26-16
BRONZE BRACKET
Championship Match: Central Florida (B) def. Vanderbilt by default.
3rd-4th Place Match: Colorado School of Mines (B) def. Charleston, 25-15
5th-6th Place Match: Macon State def. Ferris State (B), 25-13
Sportsmanship Award (voted on by the teams)
Tie: Ferris State University; College of Charleston (A)