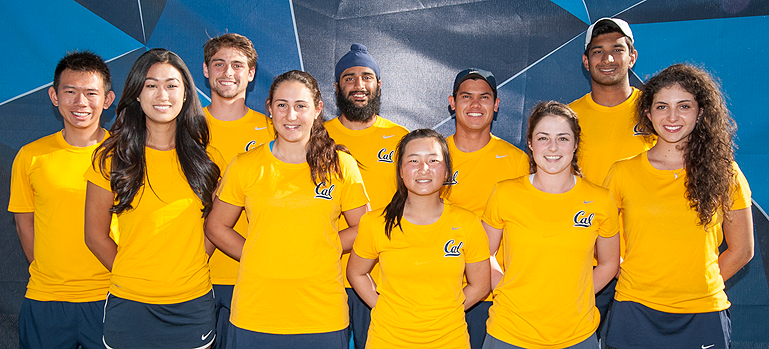 By Nicholas J. Walz
The best in the west traveled east on a title quest. And once again, a confident group clad in gold and blue claimed the No. 1 prize in American club tennis.
UC Berkeley's Golden Bears are Tennis On Campus national champions for the second time in as many years, defeating the Minnesota Golden Gophers, 28-17, on Saturday night at the Cary Tennis Park in Cary, N.C.
"Our team played really well," said co-captain Joel Garcia, soaking in the moment. "There were definitely some tense moments. We came out with a really strong doubles match, but the second match got a little tight. We haven't had a tight match in quite a while, so we got a little tense. Everyone relaxed and played really well."
The two sides traded match wins in the early moments of the contest, with UC Berkeley jumping out to a 6-2 win in men's doubles before Minnesota countered with a 6-4 victory in men's singles. In women's doubles, Berkeley broke a 2-all tile by claiming four consecutive games to widen the lead to 16-10 heading into women's singles.
Sarah Dessouki, a junior for the Golden Bears and veteran of the 2014 title-winning team, delivered booming serves and hard backhands to beat fellow junior Kelsey Frechette, 6-3, putting the champs up 22-13. Mixed doubles would provide a sentimental moment for UC Berkeley seniors Laura Posylkin and James Kong, who celebrated a 6-4 triumph in their last match as college players.
"We haven't had a school go back-to-back in a nearly a decade," said Glenn Arrington, National Director of USTA Tennis On Campus, "and the fact that it's UC Berkeley who accomplished that, you couldn't ask for a better representative as champion. They're loaded with seniors on that club, so experience played a key tonight. It's probably bittersweet for those graduating players – definitely more on the sweet side, though. There's no better way to go out."
Earlier on Saturday, the reigning champs handed in-state rival UCLA a 26-18 loss in the national semifinals to put themselves back in the final. Last year in Surprise, Ariz., UC Berkeley beat the Florida Gators, 27-13, for its third crown since 2010. In earning their fourth Tennis On Campus National Championship title in six seasons, the Golden Bears extended their Nationals undefeated streak to 14 matches.
The last school to win consecutive national championships was Texas A&M, which enjoyed a four-season title run from 2004 to 2007.
"With the level of talent that's here each year, it's hard to win two matches in a row, let alone 14," said Arrington. "Amazing."
For the Golden Gophers, 2015 was the year in which they finally broke through and made their first Tennis On Campus final appearance after more than a dozen attempts. A perennial USTA Northern Section champion, Minnesota beat a strong North Carolina Tar Heels club from nearby Chapel Hill, N.C., 23-19, in the Saturday morning semifinal to get its shot in prime time.
"We don't necessarily have a championship caliber team," said team captain Jeffrey Adolf after the match. "This year all the stars kind of aligned. We had a really great team this year. We really fought every since match in the Gold bracket and had a lot of really close ones."
For complete results and updated draws, click here.
***
The 2016 Tennis On Campus National Championship will once again take place from Cary, with matches kicking off April 14. By virtue of tonight's win, UC Berkley also earned the distinction of being the first team in the field of 64 to qualify for next year's Nationals.
Arrington has seen the intramural event of years past evolve into a three-day celebration of club tennis around the country – more than 600 accredited colleges and universities were part of the Tennis On Campus family for the 2014-15 school year.
"Tennis On Campus participation grows every year and so does the talent level at this event," said Arrington. "You're seeing everyone's best, and that includes the staff who works year-round to set up this week in Cary from the USTA, NIRSA [National Intramural-Recreational Sports Association] and World TeamTennis. It's time to take a breath and celebrate. We couldn't be prouder to have been a part of it all."
More information about the two-time defending champs:
UC Berkeley Golden Bears / Pool A / National Titles: 2010, 2012, 2014, 2015
Teams Defeated: Sam Houston State, Alabama, Penn State, Cal Poly, Georgia, UCLA, Minnesota
Roster:
Kelsey Chong – Freshman
Sarah Dessouki – Junior
Joel Garcia – Senior
Diane Ji – Senior
James Kong – Senior
Riccardo Lemos – Junior
Ahdiv Nathan – Senior
Catinca Negru – Sophomore
Laura Posylkin – Senior
Manpreet Tiwana – Sophomore
Relive the week's best moment on social media by using the hashtag: #TOCNationals