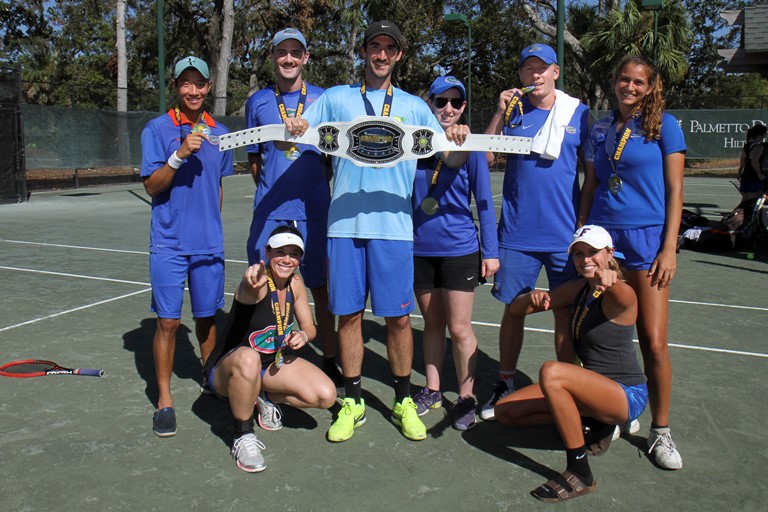 UNIVERSITY OF FLORIDA CLUB TENNIS TEAM BEATS DEFENDING NATIONAL CHAMPION AUBURN TO CAPTURE THIRD USTA TENNIS ON CAMPUS FALL INVITATIONAL IN PAST FOUR YEARS
HILTON HEAD ISLAND, S.C., – The University of Florida USTA Tennis On Campus team is back on top of the Tennis On Campus ladder as the Gators upset defending national champion Auburn University to win its third Fall Invitational in the past four years.
Florida won its seventh match and final match of the weekend on Sunday afternoon – defeating Auburn in a close match, 25-21 – in the seventh annual event which took place at the Palmetto Dunes Tennis Center on Hilton Head Island. The tournament was originally scheduled to be played Oct. 7-9, but was postponed because of Hurricane Matthew.
"We do like coming here and it's one of our favorite tournaments," said Florida Captain Max Koller, who fielded a tremendously experienced team as many of his players are third and fourth-year Fall Invitational veterans. "It plays a factor having the experience of playing here."
The Gators raised the first Fall Invitational champion belt, like a championship fighter after winning a world title, and secured an automatic bid into Nationals in April after leading by five games heading into the final mixed doubles match. But Auburn's Hannah Nelson and Mitchell Vegas won the set, 6-4, making the score 24-21 and sending the match into overtime until Florida could clinch it with one more game win. And that's exactly what happened on the next game as Florida's Anna Rachman served it out with the help of partner Alex Peckham.
Peckham played solid doubles all weekend never dropping a set. He played for the Florida TOC team as an undergrad and is finishing up law school. He has played the Fall Invitational once before in 2013 when the Gators won their first Fall Invite. "With school I haven't been able to make it the past few years, but I'm so glad I was able to be here and help us win," Peckham said.
Peckham teamed with Peter Slaton to take the men's doubles match, 6-5. Spencer Ong went 5-2 on the weekend in singles for Florida, although he fell to Vegas 6-2 in singles in the championship match.
Florida's team consisted of Peckham (Tampa, Fla.), Slaton (Gainesville, Fla.), Ong (Tampa, Fla.), Koller (Ormond Beach, Fla.), Rachman (Ormond Beach, Fla.), Isabella Herrero (Ormond Beach, Fla.), Aslesha Lissanevitch (Kathmandu, Nepal) and Barrie Eisenberg (Weston, Fla.).
Auburn team members included: Lindsay Grosz (Mobile, Ala.), Nelson (Birmingham, Ala.), Hannah Shoener (Greensboro, N.C.), Will McWhirt (Lawrenceville, Ga.), Nathan Wang (Birmingham, Ala.), Marshall Brown (Fairehope, Ala.), and Vegas (Spanish Fort, Ala.).
"It was a great run and we had an amazing time," Auburn's Captain Vegas said. "People kept talking about the pressure. But we were relaxed and just wanted to have fun. And we did."
Earlier in the day, Florida avenged a loss from last year's Nationals with a 27-19 win over North Carolina-Chapel Hill and Auburn took out Georgia College, 22-16.
At the Player Party on Saturday night it was announced that Georgia College had won the Team's Captain Award and Ferris State took home the Team Spirit Award.
Sunday's Individual Final Results
Women's Doubles:
Anna Rachman-Isabella Herrero (UF) def. Hannah Nelson-Hannah Shoener (AU), 6-2
Men's Doubles:
Alex Peckham-Peter Slaton (UF) def. Will Mcwhirt-Marshall Brown (AU), 6-5
Women's Singles
Aslesha Lissanevitch (UF) def. Lindsay Grosz (AU), 6-2
Men's Singles
Mitchell Vegas (AU) def. Spencer Ong (UF), 6-2
Mixed Doubles
Hannah Nelson-Mitchell Vegas (AU) def. Anna Rachman-Alex Peckham (UF), 6-4
Sunday's Final Team Results
Gold Bracket
Championship
Florida (A) 25, Auburn 21
Third Place
UNC-Chapel Hill (A) 30, Georgia College 7
Winner Semifinals
Auburn 22, Georgia College 16
Florida (A) 27, UNC-Chapel Hill (A) 19
Fifth Place
Georgia Tech 30, Ohio State 15
Seventh Pace
Pittsburgh 17, University of Central Florida 12
Ninth Place
University of Florida (B) 26, University of Georgia, 24
11th Place
Cincinnati by default over Vanderbilt
13th Place
N.C. State (A) 29, Duke 18
15th Place
Colorado State 27, Cornell 18
Back Draw Semifinals
Ohio State 21, University of Central Florida 21
Georgia Tech 25, Pittsburgh 22
University of Georgia 26, Cincinnati 18
Florida (B) 25, Vanderbilt 21
Silver Bracket
Championship
Kentucky 27, Virginia Tech 20
Third Place
Virginia 27, Clemson 19
Fifth Place
UNC-Chapel Hill (B) 27, Colorado 20
Seventh Place
North Carolina State (B) 27, Ohio University 24
Bronze Bracket
Championship
Furman 27, Ferris State 15
Third Place
Colorado School of Mines 26, Georgia Southern 18
Fifth Place
Appalachian State def. Western Kentucky by default
Seventh Place
Univ. of Tennessee-Chattanooga 23, UNC-Charlotte 17
Copper Bracket
American, Armstrong State, UNC-Wilmington and Radford concluded play on Saturday.
Tennis on Campus Fall Invitational Past Champions:
2016 — University of Florida
2015 — University of Georgia
2014 — University of Florida
2013 — University of Florida
2012 — Duke University
2011 — University of Virginia
2010 — University of Alabama
The USTA Tennis On Campus program features more than 45,000 college students competing nationwide in intramural and intercollegiate club play using the World TeamTennis format. Since its inception in 2000, Tennis On Campus has grown significantly and today is played on more than 700 college campuses across the country. Developed by the USTA in partnership with NIRSA and World TeamTennis, the Tennis On Campus program gives college students the opportunity to build leadership skills, network in a coed sports environment and compete on a college team without the rigors of playing in a varsity program. With year-round match play and regional and national championship competition, students maintain active and healthy lifestyles through their college years. For more information, check out www.tennisoncampus.com and search the hashtag #tennisoncampus on social media.
###
The USTA is the national governing body for the sport of tennis in the U.S. and the leader in promoting and developing the growth of tennis at every level -- from local communities to the highest level of the professional game. A not-for-profit organization with more than 715,000 members, it invests 100% of its proceeds in growing the game. It owns and operates the US Open, the highest-attended annual sporting event in the world, and launched the Emirates Airline US Open Series, linking eight summer tournaments to the US Open. In addition, it owns approximately 90 Pro Circuit events throughout the U.S. and selects the teams for the Davis Cup, Fed Cup, Olympic and Paralympic Games. The USTA's philanthropic entity, the USTA Foundation, provides grants and scholarships and helps under-resourced youth and individuals with disabilities, and supports wounded, ill and injured service members, veterans and their families. For more information on the USTA, log on to usta.com, "like" the official Facebook page, facebook.com/usta, or follow @usta on Twitter.
For more information, contact:
Steve Pratt, BZA PR on behalf of the USTA, (310) 408-4555, stevep@bzapr.com