University of South Dakota Club Tennis Team
Click Here



University of South Dakota


Location: Vermillion, S.D.

Enrollment: 5,000 - 10,000

Mascot: Coyotes

Team Website: Click Here

Facebook: Click Here

Team Members: 22

Team Founded: 2007
Team History
Our club was founded in 2007 by a first year medical student, Daniel Heckmann. Originally, the club started out as an all men's team and has since expanded to include women. The club originally starte with under 10 members and now has 22  people that participate throughout the year with 15 active travelling players.
Team Accomplishments
2010-2011 Accomplishments:
USD Team #1 - 4th place at Sectionals & Champions of the Coyote Invitational
USD Team # 2 - Coyote Invitational 2nd Place finish

2007-2008 Accomplishments:
Won first match in team history against team at Buena Vista University
Other Team Activities
• The club welcomes faculty to join in on practices and has done a few fundraising events, such as serving at a near restaurant and helping sack groceries at Hy-Vee during the holidays.
Team Events
2010/2011
Dual/tri/quad matches with other local colleges
2010/2011
Participating in a club tennis tournament hosted by another college
2010/2011
USD Club Open
2010/2011
Northern Tennis On Campus Series Event (Host)
2/26/2011 - 2/27/2011
USTA Campus Championship - Northern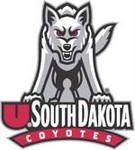 Back to Top