Stetson University Club Tennis Team
Stetson University


Location: Deland, Fla.

Enrollment: 5,000 or less

Mascot: Hatters

Team Website: N/A

Facebook: Click Here

Team Members: 20

Team Founded: 2007
Team History
The Stetson University Club Tennis Team was founded in late 2007 as an environment for avid tennis players. It has grown tremendously in the past three years since its founding with a total of twenty players from its original seven members. Numerous opportunities such as traveling to other college campuses across Florida is one of the many things that the club offers. We encourage our members to focus on other aspects of tennis like physical fitness.
Team Accomplishments
2010-2011 Accomplishments:
Became a part of the newly formed Stetson Club Sports Program
Participated in several Tennis On Campus Tournaments

2008-2009 Accomplishments:
Doubled size of club roster!

2007-2008 Accomplishments:
Competed in first tournament in Daytona Beach, Florida.
Club Founded!
Team Events
2011/2012
Tennis On Campus Spring Invitational
2011/2012
Tennis On Campus League or Series
2011/2012
Club tournament hosted by another college
2011/2012
On campus amongst ourselves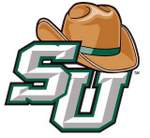 Back to Top