USTA Tennis On Campus Fall & Spring Invitationals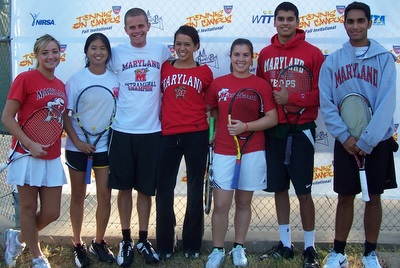 The University of Maryland Club Tennis Team was just one of over 20 teams that
participated in the first-ever Tennis On Campus national kick-off event - the TOC
Fall Invitiational at the Burns Park Tennis Center in North Little Rock, Arkansas!

USTA Tennis On Campus Invitationals
Tennis On Campus currently offers two exciting, fun-filled Tennis On Campus Invitationals that your college club tennis team can be a part of! The Tennis On Campus Fall Invitiational entered the Tennis On Campus schedule of events for the first time in 2010 as a national kick-off tournament while the Tennis On Campus Spring Invitational is enjoying it's second year of success, complementing the USTA National Campus Championship.
2012 USTA Tennis On Campus Spring Invitational
Date:

April 20-22, 2012


Don't miss out! Register your team for the 
2012 TOC Spring Invitational!!!
Venue:
Reffkin Tennis Center
Tucson, Arizona
Contact:
Meghan Houk


(520) 791-4896

Tournament Information:
More Information | Facebook Event
2011 USTA Tennis On Campus Fall Invitational
Date:

October 21-23, 2011


University of North Carolina - Chapel Hill "B"
Team took home the Sportsmanship Award.
Venue:
Palmetto Dunes Tennis Center
Hilton Head, South Carolina
Contact:
Meghan Houk


(520) 791-4896

Tournament Information:
Click Here | Results
Back to Top