Laredo Community College Club Tennis Team
Team Photo Coming Soon!!!

Laredo Community College


Location: Laredo, Texas

Enrollment: 5,000 - 10,000

Mascot: Palomino

Team Website: N/A

Facebook: N/A

Team Members: 24

Team Founded: 2010
Team History
The team was formed by an avid group of students who wanted to keep playing beyond their High School era. It was founded in October 2010.
Team Accomplishments
2010-2011 Accomplishments:
Competed in a tennis tournament shortly after being founded.
Other Team Activities
- The team is currently looking for ways to help out in the community.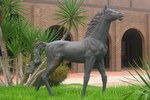 Back to Top