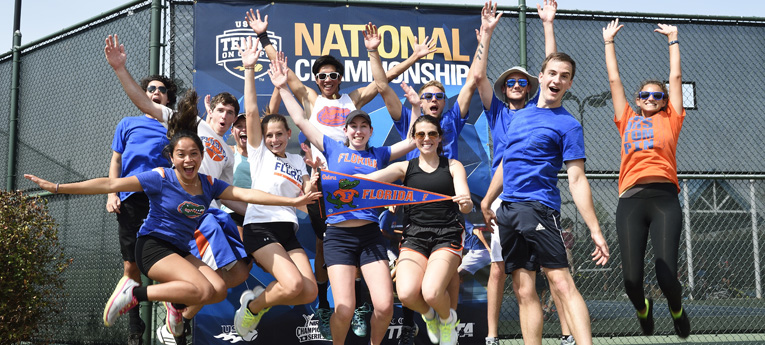 Background:

USTA Tennis On Campus was designed to increase recreational tennis participation and provide socially-competitive coed team play for students on college campuses. While we try to be inclusive to ensure maximum participation, we also recognize the impact that former varsity players can have at our championship events which can greatly affect our intent. We have made some rules and guidelines which limit former varsity player involvement and you should read the following guidelines to avoid penalty or sanctions against your team.
If the correct answer to any of the questions below is YES, you are INELIGIBLE for the 2018-2019 academic year for the following USTA Tennis On Campus Events & Championships:
USTA Tennis On Campus Fall & Spring Invitational
USTA Tennis On Campus Leagues, Regionals & Sectionals
USTA Tennis On Campus National Championship
1. Were you listed on a 2-yr or 4-yr college varsity tennis roster (squad list) for over 3 weeks (21 days) from August 2018 to the present time?
2. Were you on any college varsity tennis team for more than three years?
If yes, when was the last season you played? (If during the 2017-2018 school year, then you are ineligible for the current academic year)
3. Are you an undergraduate and enrolled in less than 1/2 time enrollment status?
4. Are you a graduate student taking less than 6 credit hours?
5. Will this current academic year be your 7th combined year of participation in USTA Tennis On Campus events and/or listing on a 2-yr or 4-yr college varsity tennis roster (squad list)?
6. Have you received prize money for participation in a tennis tournament which exceeded your participation expenses?
PLEASE NOTE:

• If you were listed on a college varsity tennis roster or squad list for 1 year or less for any previous academic year, you are not considered a former varsity player.

• At USTA Tennis On Campus Leagues, Regional, Sectional, Fall & Spring Invitational and National events there is a limit of one former varsity player per team. A former varsity player is defined as a player who has been on a 2-yr or 4-yr college varsity tennis roster (squad list) for more than 1 year.
Penalties & Sanctions:

If a player on your team is found to be ineligible for any of these rules at any time, that player and/or team is subject to immediate default or disqualification for these events at the discretion of the tournament director / committee. If you have questions about these rules / guidelines please contact your Section TOC Coordinator.
Click here for NIRSA Player Eligibility Requirements webpage.

Transgender Athlete Participation Policy:

The NIRSA Championship Series expects participation to be based on one's self-identified gender and that it is done in good faith and is consistent with a player's expressed gender identity.

A participant's gender identity will be applied when there are gender specific rules or player ratio requirements for co-rec divisions.
o Transgender individuals may play on the team that best matches their gender identity.
o The campus official who approves the team entry on the roster/player certification form should verify the gender indicated on the form is based on the participant's self-identification and expressed gender identity, not purely on the sex indicated in official school records.
o Player eligibility will be based on the gender identified on the official team roster.
o NIRSA recognizes that, for many, coming to know one's gender identity is not something that happens in an instant; it is a complex process that can occur over an extended period of time. Transgender participants are encouraged to communicate their gender identity with the campus official who is responsible for approving the team entry on the roster/player certification form prior to the tournament registration deadline. Should the player not feel comfortable working with that campus official, the individual can contact the tournament director or the NIRSA Director for National Sport Programs and inform them of their status at least three business days prior to the tournament

• Individuals who identify as a woman are eligible to play on women's and co-rec teams; individuals who identify as a man are eligible to play on men's and co-rec teams. Transgender participants are eligible to play based on their expressed gender identity so long as they comply with all Player Eligibility Guidelines.