Northern California Championship
Event Highlights
Approximately 200 participants made up the 24 teams from 9 colleges that descended upon the beautiful campus of Stanford University to compete at the 2016-2017 USTA Northern California Tennis On Campus Sectional Championships.
The final was a battle between UC Berkeley and UC Davis, with Berkeley coming out on top to claim their sixth consecutive TOC Northern California Championship title. Both UC Berkeley and UC Davis earned bids to compete at the 2017 USTA Tennis On Campus National Championship, which will take place April 13-15 in Orlando, Florida. Who will be our 2017-2018 Sectional Champion?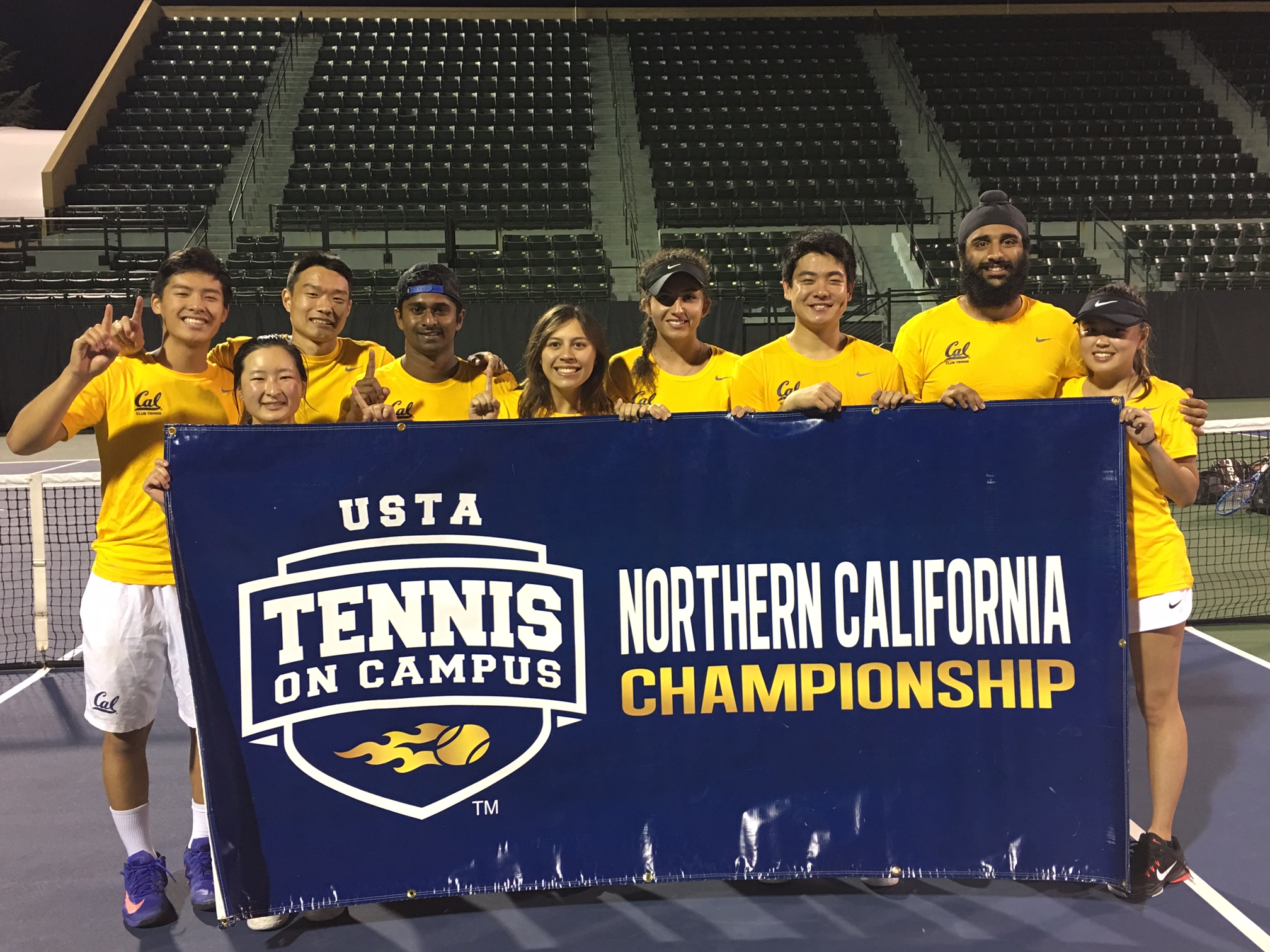 November 4-5, 2017
Palo Alto, CA
Stanford University
The USTA Tennis On Campus Northern California Championship is a fun and competitive event for collegiate club tennis and intramural tennis teams from across the USTA Northern California section. The first event took place in 2003 with 7 teams from 5 schools; in 2011, 21 teams from 10 unique schools participated. The Championship uses the exciting, dynamic, and co-ed World TeamTennis format. Winning teams are granted automatic bids to the USTA Tennis On Campus National Championship.
CONTACT: DeDee Winfield - Email - (707) 481-0370
MORE INFO: USTA Northern California Section Website
The Field
University of San Francisco
St. Mary's College of California
Stanford University
University of California - Berkeley *
University of California - Davis *
University of California - Santa Cruz
University of California - San Francisco
Sacramento State University
Santa Clara University
* Earned bid to 2017 National Championship
Past Northern California Champions
2016 - UNIVERSITY OF CALIFORNIA - BERKELEY
2015 - UNIVERSITY OF CALIFORNIA - BERKELEY
2014 - UNIVERSITY OF CALIFORNIA - BERKELEY
2013 - UNIVERSITY OF CALIFORNIA - BERKELEY
2012 - UNIVERSITY OF CALIFORNIA - BERKELEY
2011 - UNIVERSITY OF CALIFORNIA - BERKELEY
2010 - STANFORD UNIVERSITY
2009 - UNIVERSITY OF CALIFORNIA - BERKELEY
2008 - UNIVERSITY OF CALIFORNIA - BERKELEY
2007 - UNIVERSITY OF CALIFORNIA - BERKELEY
2006 - UNIVERSITY OF CALIFORNIA - BERKELEY
2005 - UNIVERSITY OF CALIFORNIA - BERKELEY
2004 - UNIVERSITY OF SAN FRANCISCO
2003 - UNIVERSITY OF CALIFORNIA - BERKELEY