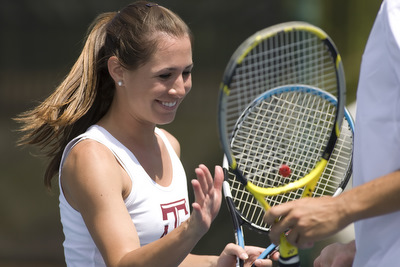 Texas A&M's Courtney "Kiki" Burns competing
at the USTA National Campus Championship in
Cary, N.C.  (Photo: Tony Pearce)

And they're off…: Play is now underway at the ninth annual USTA National Campus Championship Presented by Tennis Warehouse. Sixty-four schools are competing in pool play matches throughout the day. On hand today is USTA Chairman of the Board and President Jane Brown Grimes.

Defending Champs: Texas A&M is back in Cary in search of a record fifth straight title this week. A&M opened play Thursday morning with a 30-15 win over the U.S. Naval Academy to extend its winning streak to 30 straight matches at this event. Key members back from last year's squad are captain Matt Sumrall and Courtney Burns. The last team other than A&M to win the championship was Florida in 2003. A&M won the '02 crown and North Carolina won the first two titles in '00 and '01.

Recent Success: Texas A&M isn't the only school this week to have enjoyed recent success at this event. Returning this year are 2007 finalist Virginia, third-place Florida and fourth-place Penn State. Quarterfinalists Cal, Colorado, Cornell and UCLA are also back. Virginia has actually reached the title match three of the last four years, falling to A&M each time. UVA's title chances took a blow earlier this week when one of its top women's players was sidelined with a fractured heel. "That deflated us a little bit," says captain Rick Sherwood. "But we still have a good group, a lot of new people. We're cautiously optimistic."

Carolina Campus Cup: A new element to this year's event is the "Carolina Campus Cup" which will be awarded to the North Carolina school that fares the best this week. The Tar Heel State schools vying for the Cup will be: Elon, NC State, North Carolina and UNC-Greensboro.

Expert Advice: The Syracuse club team competing this week has had the good fortune of getting tips from the SU women's varsity coach Luke Jensen. Jensen, a former ITA All-American at Southern California and French Open doubles champ, has been active in helping with the club team there since he arrived at the school last season. The SU club and varsity teams practice together on occasion and attend each other's home matches. "He's been great," says Syracuse's Justin Betti. "He's always been there if we need advice."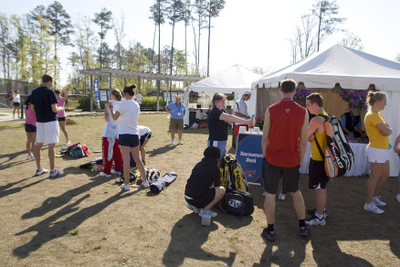 The grounds at the 2008 USTA National
Campus Championship in Cary, N.C.
(Photo: Tony Pearce)

Keeping in the Game: Baylor could have the top player in this year's event in graduate student Zuzana Cerna. Cerna played for Baylor's successful varsity team through last season and earned ITA All-America honors in 2006. "In the fall I was just going to graduate school and missed the competition," says Cerna, who is studying sports management. "Then I received a phone call from the team inviting me to play and I thought 'why not?'" Despite a strong showing from Cerna, Baylor lost to Brown 20-19 in its opening match this morning. (Tournament rules allow for a team to have one player with past varsity experience on its roster.)

Fashion Watch: Clemson is making a splash with a fresh approach to tennis attire. At the USTA Southern Campus Championship, CU sported camouflage uniforms. This week Clemson is unveiled tie-dye jerseys (the brain child of captain Lisa Felder). And should the team advance to the semifinals in the Gold Bracket this weekend Mark Bowman promises mohawk haircuts. Stay tuned…

USTA Campus Championship by the Numbers:
3 - Days of competition, culminating with Saturday's championship match.
4 - Straight championships for Texas A&M entering this week's tournament.
11 - Eleventh hour replacement South Carolina.  The first alternate made the three-hour plus drive from Columbia to Cary early this morning after receiving word that LSU could not attend the tournament late Wednesday night.
16 - Representatives from 16 USTA sections.
64 - Different colleges and universities competing.
72 - Noon time temperature in sunny Cary today.
550 - Participating student-athletes
640 - Percent increase in participating teams from inaugural event in 2000 that featured 10 teams.