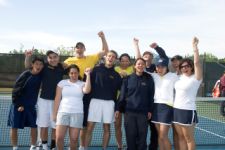 The California Golden Bears.
(Photo: Susan Mullane)
Going for the Gold: The California Golden Bears advanced to the title match by knocking off four-time defending champion Texas A&M 29-14 in the National semi-finals. With the win, the Bears snapped the Aggies' 34-match win streak at this event. Cal was up by twelve heading into the mixed doubles and senior Peter Aguilar and junior Julienne Yamamoto sealed the win with a 6-4 victory.
After the thrilling upset, Yamamoto said, "We went into the entire match with an underdog mentality, but knew headed into mixed doubles that the pressure was on A&M. We knew if we played our game, we had a great chance to advance to the championship."
California will face-off against Texas in the finals today on Center Court at 3pm. The Longhorns beat Stanford 27-19 to advance to the finals.
American Idol: When UGA Senior Margaret Inscoe heard her idol Billie Jean King would be appearing at the USTA National Campus Championship, she decided to design a t-shirt with the slogan, "Billie Jean King for President" on one side and "What would BJK do?" with a photo from her playing days on the other. One problem: Margaret was so excited to make the shirt, she ironed the design on backwards. Not to worry, King graciously signed the shirt for the Athens native and commented if she was actually left-handed she would have had a better career.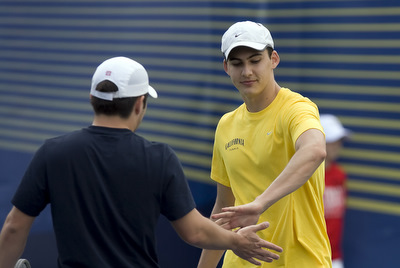 The California Golden Bears upset
four-time defending champion,
Texas A&M.
(Photo: Susan Mullane)

Getting Used to that New Car Smell: Wisconsin team captain Andy Rebhun has had a little bit of extra luck on his side this week. Earlier this winter, Andy and his teammates were out in California, and attended a taping of the popular game show "The Price is Right." The UW senior heard those magic words "COME ON DOWN!" and joined the other contestants in the front row. After winning a luxurious coffee maker, Andy got meet host Drew Carey on stage and play for a new car. Following the advice of his teammates in the audience, who were clad in their Wisconsin Club Tennis shirts, Andy made the right move and won a Chevy Cobalt!

What did he do with his winnings? The future Ford employee sold the car. The coffee maker though? He kept that, as any college senior would.

Airing out His Dirty Laundry: UCLA Coach Mark Otten had his loyalties tested this week. The former UC-Davis student actually started the club program at his first school, before transferring to UCLA. Otten and UCLA took on UC-Davis today in a Gold bracket match won by the Bruins, 26-19. While he was adorned in the distinct UCLA blue and gold, a closer glance revealed that Otten hasn't entirely abandoned the Aggies: he was wearing UC-Davis socks.