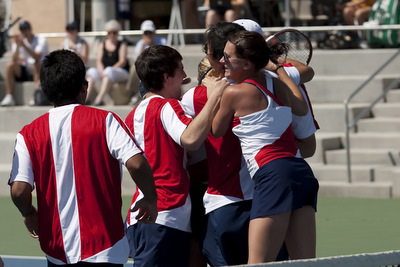 University of Arizona celebrates their
victory over Villanova University in the
first match of the day. (Photo by
Cameraworks USA)
And They're Off… The first round of matches are underway at the eleventh annual USTA National Campus Championship. For this year's championship, 64 teams traveled to Surprise Arizona, with 50 teams earning bids from their respective sectional championships and 14 receiving at-large bids.

Heating Up: The early morning matches were anything but dreary with close match-ups and fierce competition setting the tone for the rest of the day. The University of Virginia served the University of Minnesota an upset, defeating the Northern Section team by a score of 22-21. On center court, the University of Virginia and the University of Arizona culminated the 8:00 a.m. matches with a super tiebreaker during mixed doubles, with Arizona coming out on top 24-23.


USTA Campus Championship by the Numbers:
3 - Days of competition, culminating with Saturday's championship match
16 - Representatives from 16 USTA sections
64 - Different colleges and universities competing
82 - Noon time temperature in sunny Surprise today
500 - The number of colleges/universities participating in the USTA Tennis on Campus program
3,652 – Miles that the University of Puerto Rico - Mayaguez traveled to get to the Championship
30,000 – Students competing in the TOC Program

The Momentum Continues: The temperatures are rising and so is the competition. Returning powerhouses Texas A&M, Wisconsin- Madison, University of Central Florida and Penn State University have each shown tremendous abilities as they strive for this year's crown. Each team swept their respective competition and remain undefeated heading into their evening matches. Texas A&M will play University of Central Florida, Penn State University will take on the undefeated University of New Mexico and Wisconsin-Madison will face off against St. Louis University as the tournament progresses.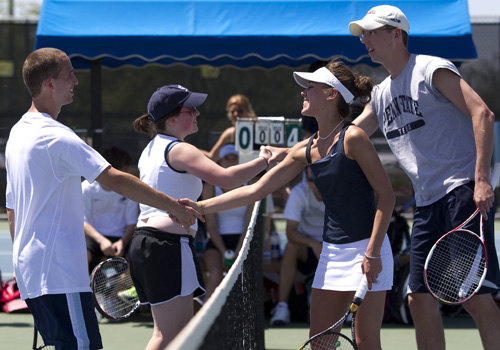 University of Akron and Penn State
University mixed doubles teams
congratulate each other on a great
match. (Photo by Cameraworks USA)

Into The Night: As an exciting day one comes to a close several early standouts have emerged. Familiar and fresh faces alike will venture into the gold bracket as the second day of competition commences. Tomorrow's match-play will be led by veteran teams such as Texas A&M and Penn State University who will join Stanford University, the University of Virginia and the University of Colorado, among several other teams in the gold bracket.

First timers: This year's tournament has an unprecedented 10 teams making their first appearance in the National Campus Championship:


| | |
| --- | --- |
| Utah Valley University | Florida Gulf Coast University |
| Old Dominion University | Indiana University |
| North Dakota State University | The University of Akron  |
| University of Washington  | Victoria College |
| College of Charleston | University of Connecticut |
Of these 10, two are clubs in their inaugural year- University of Akron and Victoria College.



Back to the 2010 USTA National Campus Championship Homepage

Have A Great Story To Share?
Do you or your club tennis team have a great story to share?  We'd love to hear about it - we're always looking for ways to promote you and your club tennis team in both local and national media outlets (i.e. magazines, newspapers, online sources, etc.).  Just fill out our Club Tennis Team Media Questionnaire and e-mail it to tennisoncampus@usta.com.  We'll do the rest!