By Kailyn Finnegan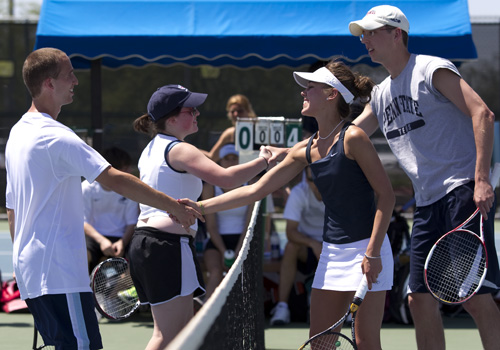 Members of the Penn State University Club Tennis Team shake
hands after their match. (Photo by Cameraworks USA)
Penn State's club tennis team doesn't "dance around" community service participation
When it comes to community service, many find time for it, but few actually make it a priority. Ironically, members of Penn State University's Tennis On Campus Club Team attribute their team unity and consistent top-10 finishes at Nationals to their community service participation.
"Participating in fundraisers has given us the opportunity to support each other and spend time together as a team while still doing something for a good cause," said Leslie Finlay.
The "THON," the largest student-run philanthropy initiative in the world, is a 48-hour dance-a-thon that raises money for children with cancer. Last year, Penn State's Club Tennis Team raised over $13,000 for THON through numerous team-building fundraisers. Finlay and her teammate Jack Mayerhofer danced in the THON for two days straight, supported by their teammates who were cheering words of encouragement in the audience.
"We weren't allowed to stop dancing or sit down for two days, it was exhausting," said Finlay. "But our entire team was there supporting us the whole time."
To raise money for the THON, Penn State University's Club Tennis Team hosts a 12-hour tennis clinic in Lancaster, PA each year. The club tennis team works with kids, high school students and adults who are looking to improve their overall tennis game. At this past year's teaching clinic, the Penn State squad raised $3,000.
"Aside from the tennis clinic, we constantly raise money through other methods such as letter writing and coffee-can campaigns," said Finlay. "We learn to work as a team through these fundraisers and it shows in our performance on the court."
This year marks Penn State's fourth consecutive USTA Campus Championship – Middle States title and their fifth trip to the National Campus Championship. The team hopes for a top-10 overall finish for the fourth year in a row.
"The Tennis On Campus program has given us the opportunity to play tennis at a very competitive level without jeopardizing the importance of a team mentality and involvement in other activities," stated Finlay.
Back to the 2010 USTA National Campus Championship Homepage

Have A Great Story To Share?
Do you or your club tennis team have a great story to share?  We'd love to hear about it - we're always looking for ways to promote you and your club tennis team in both local and national media outlets (i.e. magazines, newspapers, online sources, etc.).  Just fill out our Club Tennis Team Media Questionnaire and e-mail it to tennisoncampus@usta.com.  We'll do the rest!