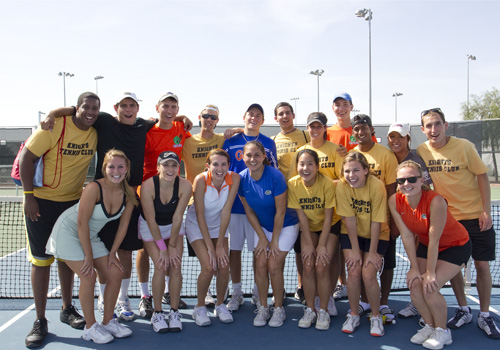 University of Central Florida and the
University of Florida are friends off
the court. (Photo by
Cameraworks USA)
The University of Central Florida Knights know all too well the thrill and nervousness that go along with competing in the Semi-Finals. At the 2009 National Campus Championship the Knights took on the Wisconsin-Badgers to determine which team would go on to face Duke University in the final match that evening. This bitter battle was the talk of the tournament as close calls and disputed points ended the Knights hopes at achieving the title of National Campus Champions. Following the loss the team made a promise that next year they would come home with the crown.

Fellow Floridians, The University of Florida Gators, have made a similar promise. After taking home the National title in 2003 their dreams of repeating their Championship win have been building for the past seven years.  "No one on our team now was around during the team's last Championship win so we want to bring home a victory, especially for our Seniors," said Scott Runda.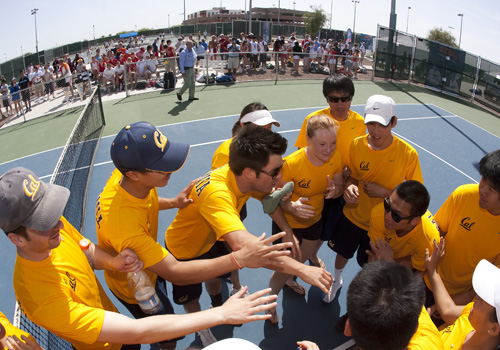 Cal Berkeley wins a tight semifinal
against UCLA. (Photo by
Cameraworks USA)

As day three of competition began the two determined Florida teams, who have competed against one another several times in past tournaments, were matched up at this year's Semi-Finals to compete for a spot in the Championship Match. After strenuous duel the University of Florida came out on top with a (29-16) victory against the University of Central Florida.

"We respect the Gators very much," said UCF team captain Luis Duco. "We have each had our fair share of wins and losses against one another this season, but if we had to lose to anyone in a match like this we are happy it's them." "You will be sure to see us on the sidelines cheering them on tonight."

On the other side of the country two teams from California have festered a bitter rivalry for years. UC-Berkeley and UCLA have always been dominant forces at the National Campus Championship but they have yet to compete against one another in a match with such high stakes. Until today.

It was a nerve wracking match on all fronts with the fate of both teams relying on the mixed doubles match.  After an intense battle, the team from UC-Berkeley pulled out a close victory with a final score of (25-20).
 "It was an exciting win but we're not there yet," said UCLA's Michael Hui. "I'm still anxious about the Championship match but no matter what happens it's been a great ride."

Coincidentally, the final match will be a battle of East meets West when the UC-Berkeley Golden Bears from the Golden State and the University of Florida from the Sunshine compete for the title of National Campus Champions at 4:00 pm. 
 

Back to the 2010 USTA National Campus Championship Homepage


Have A Great Story To Share?
Do you or your club tennis team have a great story to share?  We'd love to hear about it - we're always looking for ways to promote you and your club tennis team in both local and national media outlets (i.e. magazines, newspapers, online sources, etc.).  Just fill out our Club Tennis Team Media Questionnaire and e-mail it to tennisoncampus@usta.com.  We'll do the rest!