By Katie Timinsky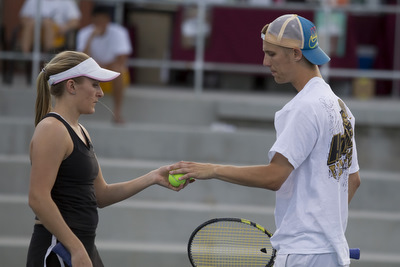 Mixed doubles partners Jimmy Roesch
and Erin McCardle in action at the 2010
USTA National Campus Championship.
(Photo by Cameraworks USA)

Tennis Isn't the Only Thing Found at the 2010 National Campus Championship

For many, the Tennis On Campus program has become an avenue for finding lifelong friendships; however for a few lucky people it has opened the door to finding their soul mate.
 
Steven Nelson and Jessica Grobeck have always had a love for tennis. Little did they know that their shared interest in the sport would forever change their lives.

The two met through Iowa State University's club tennis team four years ago where the whirlwind romance first began and has continued to flourish ever since.

"We started dating after a Tennis Club trip to Oklahoma," Nelson said. "It was actually at that same tournament where I asked Jessica to marry me two years later."
Nelson said the club meant a lot to the couple, that the Tennis On Campus program was a big part of their lives and that he felt compelled to propose there.

Doubles partners Jimmy Roesch and Erin McCardle from the University of Central Florida may not be engaged yet but only time can tell where their future may lead them.

The couple first caught each other's eye when they played a doubles match together at states last year. Since then they have gone on to compete alongside one another in several tournaments including the 2009 and 2010 National Campus Championship.
 
"We really motivate each other on court," McCardle said. "It was fun playing together before we started dating but now, not only do we want to win for ourselves and the team, but we want to win for each other."

Several other teams have found love on the court, including two couples from Oregon State University and a couple from a Northern California school, spotted holding hands, who have asked to remain nameless….
 
The Tennis On Campus program has been many things to many people but to these fortunate teammates it has given them memories and relationships to last a lifetime.


Back to the 2010 USTA National Campus Championship Homepage

Have A Great Story To Share?
Do you or your club tennis team have a great story to share?  We'd love to hear about it - we're always looking for ways to promote you and your club tennis team in both local and national media outlets (i.e. magazines, newspapers, online sources, etc.).  Just fill out our Club Tennis Team Media Questionnaire and e-mail it to tennisoncampus@usta.com.  We'll do the rest!