By Katie Timinsky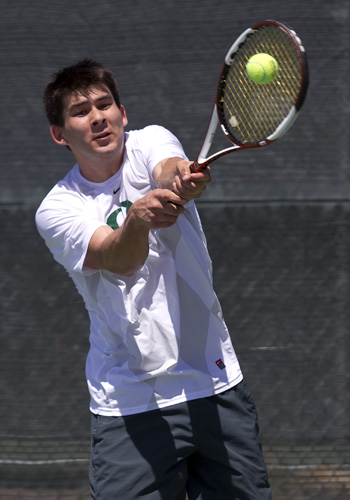 Senior Andrew Pritchard of the
University of Oregon finally arrives
in Surprise, Ariz. at the 2010 USTA
National Campus Championship.


The tickets were booked, the equipment was packed and the University of Oregon Ducks were happily awaiting their flight to the USTA National Campus Championship. Little did they know what they were about to encounter.
The team had nothing but positive thoughts as they boarded the plane until their trip took a turn for the worse. It all began when after ten minutes in the air the pilot announced that they would have to turn the plane around due to engine failure.
 
 "Surprisingly, nobody freaked out. Everyone was pretty calm. We somehow knew it was all going to be ok," said Senior Andrew Pritchard.
The plane returned safely to the airport, but now the team was stuck with no back-up plan.

After waiting 12 hours in the airport, they decided to split the team up strategically in the event they didn't all make it to the tournament. One half of the team boarded a plane to Utah while the other half drove to Portland to catch a plane to Phoenix from there.

"We thought the plane incident was the worst of it until we saw the monsoon that we had to drive through to get to Portland," said Team Coordinator Lee Lenker. "It was like someone had it out for us, we couldn't catch a break."

Despite a faulty plane, 12 hours at the airport, a 2-hour drive through a monsoon, the entire team finally arrived at the Phoenix airport within minutes of each other.   Unfortunately, the adventure was not over.   The clock was ticking because the team's first match was schedule to begin shortly and they still had to drive to Surprise.   The team's quick thinking and perseverance paid-off when they arrived at the Surprise Tennis and Racquet Complex 10 minutes before their scheduled match.

"Everything we've been through these past few days has really brought us closer together as a team," said Captain Jason Tutor. "You can't imagine how we felt thinking we might not make it to Nationals. We've put it all behind us and all that matters is that we're here now and we're ready to compete."

The school qualified for this year's National event as they took home first place at the Pacific Northwest Sectional event this past November. This is the fifth appearance at Nationals for the University of Oregon Club Tennis Team. Placing 15th at last year's Championship they are determined to improve their play this year.

"This is a special week for us," said Lenker. "We have a few seniors that would like to go out with a bang but no matter what happens we are happy that we made it and we had a great time doing it."


Back to the 2010 USTA National Campus Championship Homepage


Have A Great Story To Share?
Do you or your club tennis team have a great story to share?  We'd love to hear about it - we're always looking for ways to promote you and your club tennis team in both local and national media outlets (i.e. magazines, newspapers, online sources, etc.).  Just fill out our Club Tennis Team Media Questionnaire and e-mail it to tennisoncampus@usta.com.  We'll do the rest!