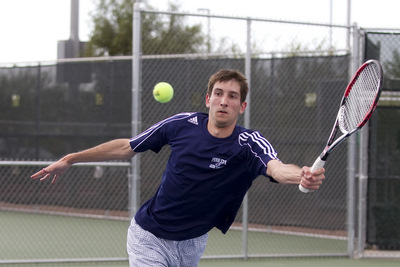 A member of the Penn State Club
Tennis Team in action at the 2010
USTA National Campus Championship.
(Photo by Cameraworks USA)
At the 2010 Tennis On Campus National Campus Championship, participants enjoyed more than just the day-long tennis matches. Some of this year's players discussed their positive experiences and fondest team memories during their time in Surprise, AZ.
Penn State freshman Caleb Klick was surprised to see such high levels of both competition and team unity during his first Tennis On Campus Championship. "This was the best tennis tournament I've ever participated in," said Klick. "It was very competitive but at the same time the camaraderie between players and different teams was outstanding."
"I'm a senior and this year's tournament has been a great," said Villanova's mixed doubles standout Allie Volpe. "It's truly been a great way to wrap up playing tennis on a national level."
Members of University of Delaware's club tennis team couldn't say enough about their time competing in Surprise. "We enjoy meeting new teams and making new friends. We've developed relationships with different teams we've played with, especially with the University of Alabama club team. The positive experiences we've had this weekend will motivate us to work hard to receive a bid to the tournament next year."
Katie Stewart, team captain of Western Washington University's club tennis team discussed her team's dedication to the Tennis On Campus program over the years. "Western Washington is actually the only team to have competed in the championship all twelve years. We have so much fun during every championship and we look forward to seeing the other teams from the Northwest Section."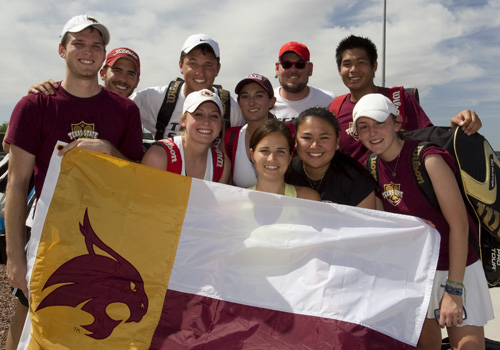 Texas State at the 2010
USTA National Campus Championship.
(Photo by Cameraworks USA)

"I got excited before the tournament even began," said the University of Virginia's Rodrigo Sarlo. "When I walked into the Surprise Tennis & Racquet Complex the day before the first set of matches, I saw all the team banners and flags hanging along the tennis courts. Seeing that level of team spirit made me want to start playing immediately." 

Alex Scharton of Texas State University discussed his thoughts on the USTA tennis program stating, "The Tennis On Campus program is very effective because it gives students the opportunity to continue to play tennis in college at a non-varsity level."

Whether they are returning players, new teams or graduating seniors, every participant has walked away from the 2010 National Campus Championships with new friends and lasting memories.

 

Back to the 2010 USTA National Campus Championship Homepage


Have A Great Story To Share?
Do you or your club tennis team have a great story to share?  We'd love to hear about it - we're always looking for ways to promote you and your club tennis team in both local and national media outlets (i.e. magazines, newspapers, online sources, etc.).  Just fill out our Club Tennis Team Media Questionnaire and e-mail it to tennisoncampus@usta.com.  We'll do the rest!