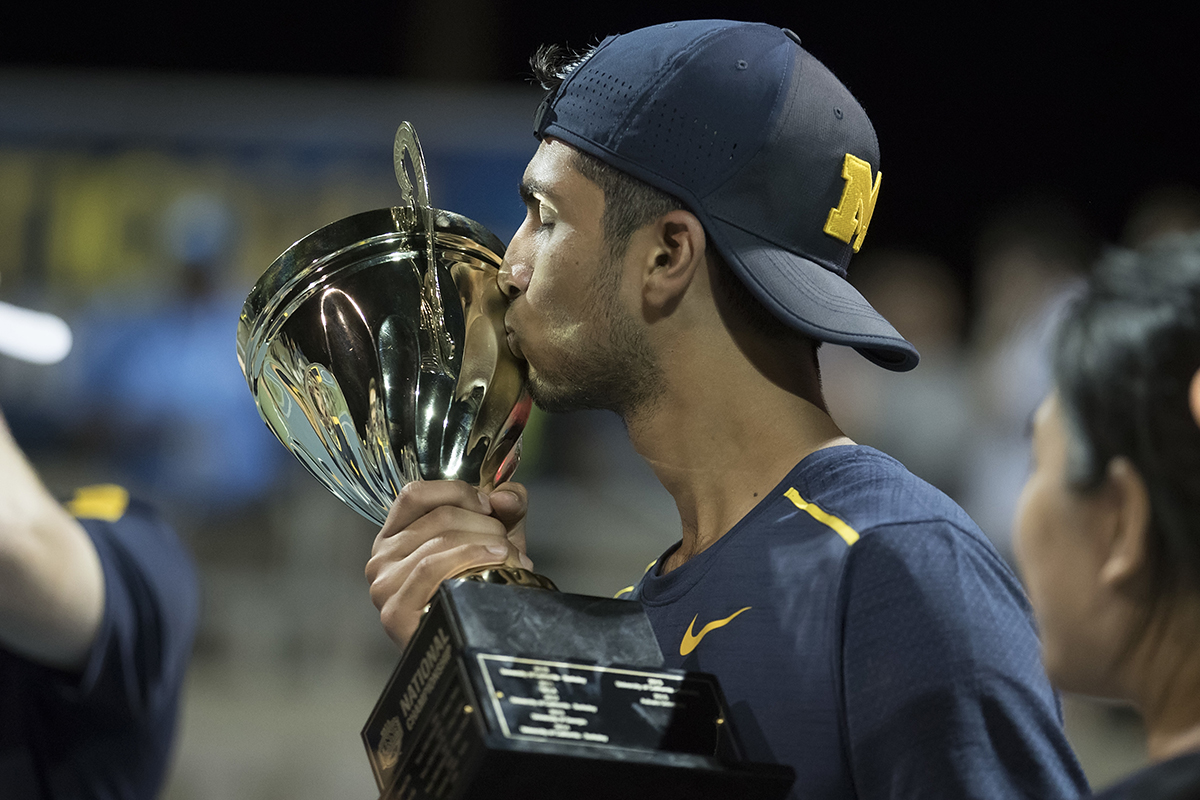 By Ashley Marshall
ORLANDO, Fla. -- The University of Michigan came out of nowhere to win the 2017 Tennis on Campus National Championship. And even though this year's team is much different from the one that lifted the trophy last spring, the sense of self-belief and confidence instilled at the USTA National Campus 12 months ago remains with the 2018 squad.
Unlike a year ago, when the Wolverines came in under the radar, tomorrow the defending champions will have a target on their back when play begins. That's not a problem for co-captain Koushik Kondapi, one of only two players returning from Big Blue's title-winning team.
"I think for us, with our mentality, we definitely see it as an advantage," Kondapi said. "We like the ability to come in as defending champs, and we're confident in our own ability. We did it before, and we can do it again. Whatever pressure there is, it's not as much as what we put on ourselves.
"Our team might be green, and we may be young, but we are coming to Florida to begin the defense of our National Championship, and I believe we can do that, 100 percent. Our realistic expectation is to defend our title from last year. Whether that's realism or idealism, it's up to the other guys. But we don't want to settle for anything less."
Last year, Michigan defeated the University of California, Irvine, 24-20, to win the Wolverines' first TOC Nationals title. But this year's team has a whole new look, with only Kondapi and co-captain Chelsea Yu – both freshmen 12 months ago – back on the team. Alex Gruskin and Laura Ucrós Téllez graduated last summer, and juniors Kerry Hu and Max Rothman and sophomore Kevin Rothstein from the 2017 team are all missing from the 2018 roster.
In their place is a trio of sophomores, Patrick Toomey, Alex Hulka and Michi Ota, and freshman Elena Wilner. Yu says the team has bonded well over the past semester, even if it has taken a little time to mix and match partnerships and lineups to find what works best for the team. "Since we have so many young players on the team, we'll have to feel it out," said Yu, a pre-med cellular and molecular biology major from Canton, Mich.
"We've been on the major trips together, like the Badger tournament in Wisconsin and the regionals. We're a core group that knows each other, but we're really close. I think it's something that comes together naturally. Knowing we are the National Champions and only two players are returning, it should be a lot of fun."
The club didn't play either the Fall or Spring Invitational tournaments this year, but it finished fourth at the USTA Midwest Sectional tournament. The top five teams automatically receive a bid to Nationals at the USTA National Campus in Orlando, but Michigan was already assured of a spot by virtue of winning the 2017 event.
Kondapi recognizes that it's going to be a challenge to replicate last year's success, considering the relative inexperience of the current squad, but he's not letting that dampen his enthusiasm and optimism about his chances of winning back-to-back titles, something only one team, the University of California - Berkeley, has done in the past decade.
"It's going to be very different, especially since we have five sophomores and one freshman," said Kondapi, 19, a pre-med neuroscience major from Novi, Mich. "Last year, we were the two youngest, and everyone else was an upperclassman.
"There's going to be a learning curve. We'll have to all figure it out. [Last year] it was very, very overwhelming. It was a stage that I had never played on before. But I can honestly say that week was the best experience I have had in college so far and probably the best experience I will have for my four years."
Michigan opens the defense of its title in pool play against Villanova on Thursday before facing Washington University in St. Louis and the University of Tennessee at Chattanooga to round out the day. Should Michigan top its group, it would face the winner of Pool F, which includes 2016 finalist University of North Carolina and USTA Middle States winner Penn State University.