Midwest Championship
2019 TOURNAMENT RESULTS | Scores
Check out the official results of the championship by CLICKING HERE. The following teams listed below will all represent the Midwest at Nationals! Good luck teams!



| | | |
| --- | --- | --- |
| 1st Place: | Ohio State University | |
| 2nd Place: | University of Notre Dame | |
| 3rd Place: | University of Michigan | |
| 4th Place: | University of Wisconsin | |
| 5th Place: | Miami (OH) University | |
| 6th Place: | Michigan State University | |
| 7th Place: | University of Illinois | |
| Club Team of the Year: | Michigan State University | |
| Club Leader of the Year: | Kelsey Hacker | |
| Sportsmanship Winner: | University of Cincinnati | |
PHOTO GALLERY | @USTAMidwest
Photos of players competing throughout the tournament can be found on the USTA Midwest Facebook page at www.Facebook.com/USTAMidwest or by CLICKING HERE. Share your photos as well on social media using the hashtag #TennisOnCampus!
SOCIAL MEDIA | #TennisOnCampus
Share you championship journey on Facebook, Twitter and Instagram using the #TennisOnCampus hashtag for your chance to win USTA Midwest selfie sticks, backpacks, shirts, cups and more! We'll be randomly selecting users all weekend who engage with the hashtag to win prizes, so start tagging NOW! And if you think the new Snapchat layout looks as bad as we do, make sure to liven up your photos/videos with our Midwest Tennis on Campus Championship filter!
#TennisOnCampus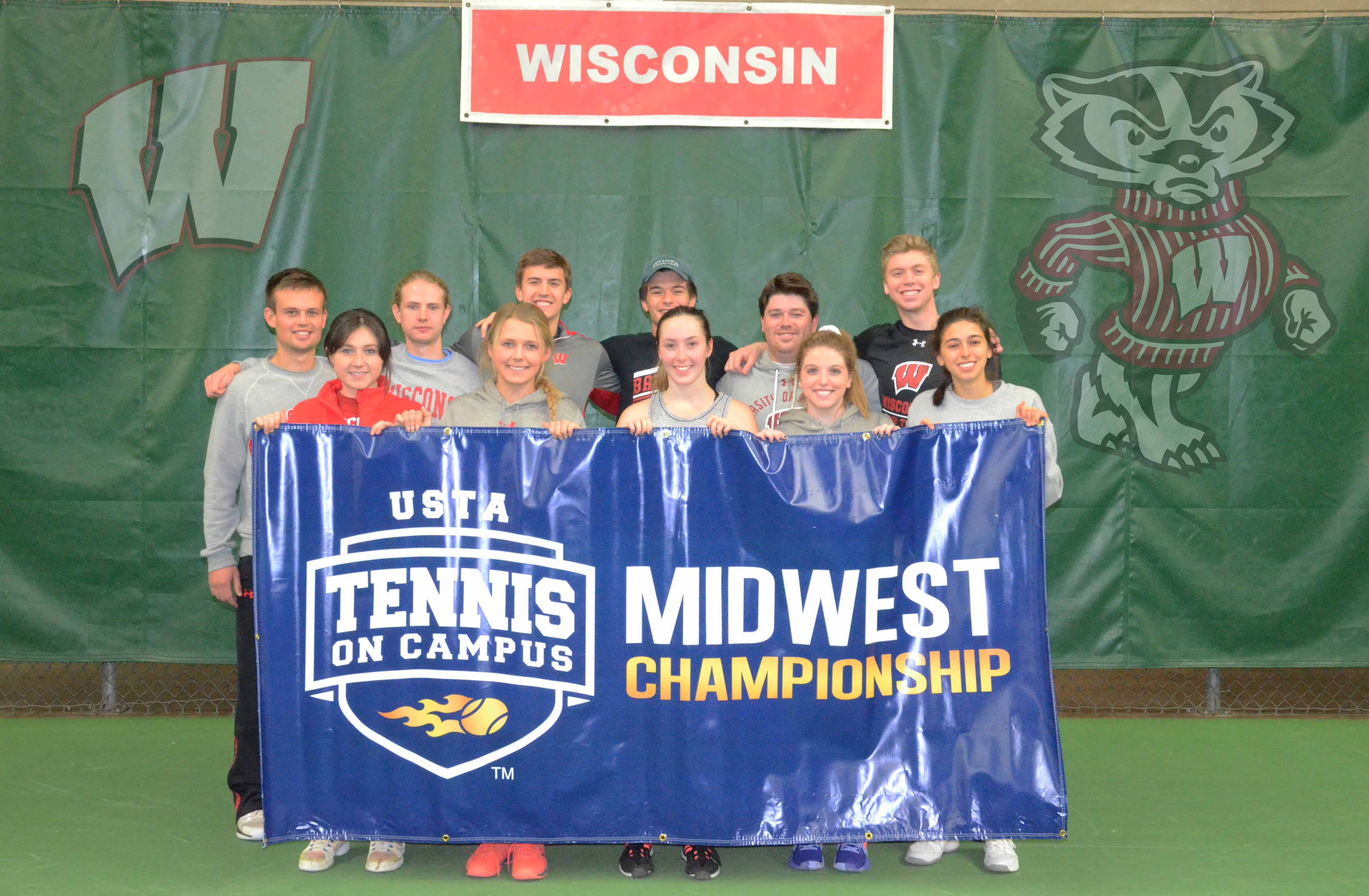 February 15-17, 2019
Madison, WI
University of Wisconsin
The USTA Tennis On Campus Midwest Championship is a fun and competitive event for collegiate club and intramural tennis teams from across the USTA Midwest Section. The first event took place in 2002 with only 6 teams from 5 schools and, now, hosts 32 teams from 32 unique schools! The Championship, which uses the exciting, dynamic, and co-ed World TeamTennis format, is the conclusion to the year-long Midwest Tennis On Campus League. Teams who finish between 1st-5th place are granted automatic bids to the USTA Tennis On Campus National Championship and may receive a stipend from the USTA Midwest Section to attend the National Championship. In addition, the USTA Midwest Section also gives a stipend to the team receiving the USTA Midwest Tennis On Campus Club of the Year Award to attend the USTA Tennis On Campus Championship.
CONTACT: Steve Wise - Email - (262) 334-3601
MORE INFO: Midwest Tennis on Campus
The 2018 Field
Bowling Green University
Butler University
DePaul University *
Ferris State University
Grand Valley State University
Illinois State University
Indiana University
Kent State University *
Loyola University
Marquette University
Miami University *
Michigan State University
Northern Illinois University
Northwestern University
Ohio State University
Ohio University
Purdue University
University of Cincinnati
University of Dayton
University of Illinois *
University of Illinois - Chicago
University of Michigan *
University of Notre Dame *

University of Toledo

University of Wisconsin - Madison *
University of Wisconsin - Milwaukee
University of Wisconsin - Platteville
University of Wisconsin - Whitewater
University of Valparaiso
Western Michigan University
* Earned bid to 2017 National Championship
Past Midwest Champions
2018 - UNIVERSITY OF WISCONSIN - MADISON
2017 - UNIVERSITY OF MICHIGAN
2016 - UNIVERSITY OF MICHIGAN
2015 - UNIVERSITY OF WISCONSIN - MADISON
2014 - UNIVERSITY OF MICHIGAN
2013 - UNIVERSITY OF MICHIGAN
2012 - UNIVERSITY OF WISCONSIN - MADISON
2011 - UNIVERSITY OF MICHIGAN
2010 - UNIVERSITY OF MICHIGAN
2009 - UNIVERSITY OF WISCONSIN - MADISON
2008 - UNIVERSITY OF WISCONSIN - MADISON
2007 - UNIVERSITY OF WISCONSIN - MADISON
2006 - UNIVERSITY OF MICHIGAN
2005 - UNIVERSITY OF WISCONSIN - MADISON
2004 - UNIVERSITY OF MICHIGAN
2003 - UNIVERSITY OF MICHIGAN
2002 - UNIVERSITY OF MICHIGAN