The Surprise Tennis & Racquet Complex, Surprise, AZ




News And Notes - Day 3, Morning

Big 10 - ACC Showdown for USTA National Campus Championship: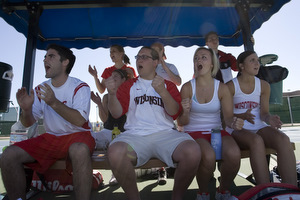 The University of Wisconsin Club Tennis Team cheers on their
on-court teammates at the 2009 USTA National Campus
Championship.

It all came down to one point. The University of Wisconsin – Madison advanced to today's Championship match in one of the most exciting and action-packed matches in the history of the USTA National Campus Championship. Tied 6-6 in a Supertiebreaker, the Badgers mixed doubles team of John Smits and Amanda Von Horn redefined the meaning of the word determination.

The final point opened with Smits fending off a powerful first serve from Central Florida's Jimmy Roesch. His return landed just over the net in the doubles lane and the Badgers dream of a national title was again in danger when Roesch followed with a strong overhead slam. In a flash, Smits scrambled into position just in time to volley a defensive lob that sailed over the heads of the team from Central Florida.

Roesch quickly retreated with every ounce of determination, but his attempt to keep the point alive landed just short of the net. The sidelines erupted and the Badgers knew they had advanced to the Championship Match.

When asked how they will prepare for the title match, Wisconsin answered with the simple phrase, "We will be ready."

Wisconsin will face a strong Duke team who ousted perennial power Texas A&M in the semifinals 25-19.

The Blue Devils for Duke came out swinging against the Aggies, and took a commanding lead by sweeping the doubles and singles matches. Facing a 24-11 deficit heading to mixed doubles, Texas A&M fought back to 24-19, but was ultimately no match for Duke who has steamrolled through their draw.

The University of Wisconsin- Madison Badgers will face-off against the Duke Blue Devils for the Championship Title on center-court at 4:00 pm. Teams, parents and spectators alike will join together to see whose college club tennis team is the best in the Nation.



Scarlet Fever:

  One

surprise

at the 2009 USTA National Campus Championship has been the play of the

Rutgers Scarlet Knights

.  An at-large team coming into the tournament, Rutgers has turned more than a few heads by sweeping their opending pool play on Thursday and taking their first-round match in the

Championship Bracket

against traditional power

Penn State

27-20.  Advancing to the final four will be a difficult task as the Scarlet Knights will now face the Golden Knights of

Central Florida

who scored the biggest upset of the tournament by taking down 2008 runner-up

Cal Berkeley

.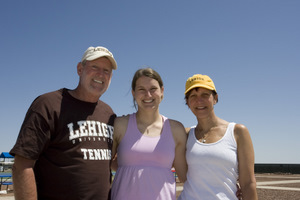 Tom and Mona Melms with their daughter at the 2009
USTA National Campus Championship.

A Family Affair: When Jeri Shuster, walked into the Surprise Tennis & Racquet Complex, she was instantly reminded of her glory days as a tennis player. The atmosphere, the adrenalin rush, the hint of competition in the air, all came rushing back. This time however, something was different. Opposing teams eating lunch together? Laughing together? "What is going on?" she wondered.
Jeri, like many other parents, has gathered in Surprise to cheer on her child competing for the title of National Campus Champion.
Barbara Davis, mother of two daughters who play on the club teams for Marquette and Loyola, said the greatest aspect of the Tennis On Campus program is the camaraderie the kids build with one another. "It is an amazing opportunity for these kids to compete at a level they are comfortable with and have fun in the process," she stated.
Mona and Tom Melms, whose daughter plays for Lehigh University, could only describe the program as fantastic. "The competition is top-notch but there is no pressure, it's just a wonderful venue," they said.
It appears that the Tennis On Campus program is a hit on all levels. Whether you're a player, a parent, a grandparent or even just a spectator, tennis is truly a sport for all generations.
Southern Pride: The USTA Southern Section is well represented at the 2009 USTA National Campus Championship, with 7 teams from 4 states, proving that the pride of the South even translates to the desert. Highlighted by the strong play of the Duke Blue Devils, who just defeated defending champion The University of Texas at Austin, the Southern Section has had plenty to cheer about.
The teams competing this week not only received support from their regional counterparts, but also making the trip is Gordon A. Smith, Executive Director USTA and former president of USTA Southern.
"This is my first year at the National Campus Championship and witnessing these student athletes compete has been a great experience," said Smith. "They represent the future leaders of tomorrow and I can say with great pride that we are proud to have them represent the USTA's Southern Section."



Let it Begin
… Play is now underway at the tenth annual
USTA National Campus Championship
. What started out as a ten team, six school tournament back in 2000 has turned into a 64 team national championship with over 550 players.
Coming out Swinging: The University of Texas at Austin is striving to defend its 2008 crown and they are off to a strong start defeating the University of Miami in their opening match and followed with convincing victories over Northern Illinois and Virginia Tech. They will look to continue their winning streak tomorrow with a first round match against Simon Fraser in the Championship Bracket.
Looking Strong: Perennial powers Texas A&M, Penn State, Wisconsin - Madison and Michigan showed why they are considered strong contenders for this year's crown. Each team swept their opening pool play and will compete in the Championship Bracket beginning Friday. Texas A&M will play Georgetown, Penn State will face Rutgers, Michigan will take on Duke and Wisconsin faces in-state rival Marquette.
Surprising Comeback: One of the most exciting matches of the morning session saw the Georgetown Hoyas competing against the University of South Carolina in a Supertiebreaker. After losing all four of its singles and doubles matches, and trailing by 13 games, Georgetown University knew its only hope would be in mixed doubles. Georgetown surged back winning enough games to force a Supertiebreaker and ultimately came out on top. Matches like this aren't exactly unfamiliar to Georgetown. In their Section Championship, Georgetown won its bid to the National Campus Championship after rallying back from a six game deficit to defeat the University of Virginia.
First timers: This year's tournament has an unprecedented 14 teams making their first appearance in the National Campus Championship.



Of these 14, two are clubs in their inaugural year- University of Kansas and Northern Illinois.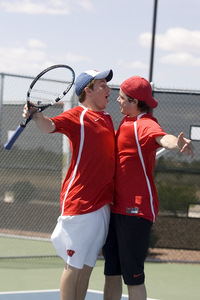 The University of Wisconsin's John
Smits and Justin Lewis celebrate a
great point at the 2009 USTA
National Campus Championship.

When Rivals Become Teammates: The University of Wisconsin-Madison Men's Doubles team of John Smits and Justin Lewis experienced a strange sense of déjà-vu as they stepped onto the court, except this time as teammates and not bitter rivals. John and Justin grew-up playing competitive tennis against each other in neighboring towns in Illinois. They crossed paths twice during their high school careers meeting up in the semi-final and final matches of their high school championship. Today the previous rivals are now exchanging high fives on the same side of the court as Men's Doubles partners.

Return to the 2009 USTA National Campus Championship homepage.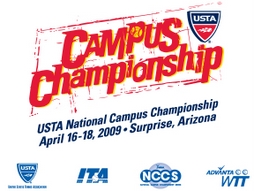 Have A Great Story To Share?
Do you or your club tennis team have a great story to share?  We'd love to hear about it - we're always looking for ways to promote you and your club tennis team in both local and national media outlets (i.e. magazines, newspapers, online sources, etc.).  Just fill out our Club Tennis Team Media Questionnaire and e-mail it to tennisoncampus@usta.com.  We'll do the rest!