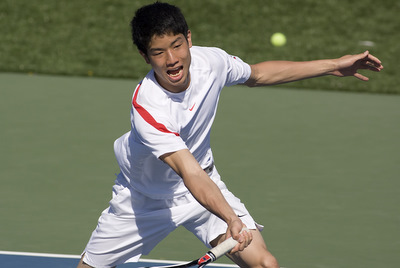 A Rutgers University team member hits a
volley at the 2009 USTA National Campus
Championship.

SURPRISE, AZ. April 18, 2009 – Duke , University of Central Florida, University of Wisconsin-Madison and Texas A&M were all victorious in the quarterfinal matches today and earned a birth into the 2009 USTA National Campus Championship Semifinals.

Under a picture-perfect desert sky, Duke continued their impressive run through the brackets with a morning victory over the University of Michigan 29-19 and followed that by taking down defending champion University of Texas at Austin 28-14.

After an epic battle, the Golden Knights of Central Florida earned their berth in the final four by topping the Scarlet Knights of Rutgers University 26-18. Earlier in the day, Central Florida disposed of UC Davis 28-12.

The clash of the red and white ended in victory for the University of Wisconsin – Madison who managed to slide past the Maryland Terps 26-24 right into the semifinals. The University of Wisconsin - Madison will meet-up with standout performers the University of Central Florida Saturday morning.

Five-time National Campus Champions, Texas A&M have found their way back to the semi-finals by defeating Baylor University 30-18 in the quarterfinals and Georgetown 26-20 earlier in the day.

In other matches from the round of 16, Baylor defeated Brown, Maryland bested Oregon and Rutgers beat Penn State.

"Today was a great exhibition of tennis. Every match in the morning session was very competitive and spirited," said Glenn Arrington, USTA National Manager of Tennis On Campus. "We have some fresh faces in tomorrow's final-four with traditional power Texas A&M looking to reclaim their crown."

Saturday's semifinals will take place at 8:00am and the championship match is slated for 4:00pm.

Tennis legend Billie Jean King will be on hand this weekend as honorary guest to show her support for the teams.



Have A Great Story To Share?
Do you or your club tennis team have a great story to share?  We'd love to hear about it - we're always looking for ways to promote you and your club tennis team in both local and national media outlets (i.e. magazines, newspapers, online sources, etc.).  Just fill out our Club Tennis Team Media Questionnaire and e-mail it to tennisoncampus@usta.com.  We'll do the rest!