By: Jeff Sikes, USTA Southwest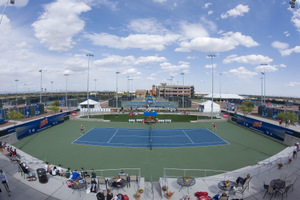 The Surprise Tennis & Racquet Complex in Surprise, Arizona.
A vast ocean-blue sky overhead, dry conditions with temps in the mid 60's where sweat is almost non-existent and a small hint of a breeze in the air. In short, perfect conditions for tennis, and that's what this week in Surprise, Arizona - the site of the 2009 USTA National Tennis on Campus Championship – is offering the nation's top collegiate club tennis teams.

The biggest complaint this week will likely be that it's too sunny.

The Campus Championship, which for the last two year's have been hosted in Cary, N.C., put the show on the road for 2009, moving to the desert at the Surprise Tennis & Racquet Complex (STRC), just west of the Phoenix metro area. The facility, which was one of a handful of USTA National Facility of the Year award winners for 2008, has to be one of the crown jewels of public tennis anywhere in America.

"It's spectacular," said University of Kansas Club Tennis Team co-captain Chris Willdermood of STRC. "I haven't seen anything like this facility anywhere. I played the Kansas state high school championships at a great place in Wichita, but this is just off the charts."
The STRC site, which opened in October of 2007, has all the bells and whistles: spacious running room on every court, courts partitioned in banks of two for better viewing, and plenty of elbow room for players, staff and competitors to move and mingle around. Throw in the beautiful mountainous backdrops and the no-sweat temps and it's easy to see why the USTA will be lavishing more attention to the place.
This week's Campus event is also the first USTA national championship event of any kind for the Arizona public facility, but it surely won't be the last. Next week, the site will play host to yet another national championship, the USTA National League Super Senior Championships, and it's already in the rotation for the Jr. Team Tennis National Championships. STRC will also host next year's Campus Championship as part of a two-year rotation.

"We have had a recipe for success with these mega tennis centers and this particular event," said Glenn Arrington, USTA National Manager, Tennis On Campus and TSRs, referring to the success and demand for entry into the Tennis On Campus program's ultimate event.

"One requirement is we need a place that is big enough to handle the amount of matches we will have to play. Two, we would prefer a warm climate where weather will likely not be an issue and three, somewhere relatively near a major airport. Surprise fit all three of those easily. It's also a state-of-the-art public tennis center and a venue that can promise this event will be a showcase one."

The site experienced its first taste of limelight last November when it welcomed the Outback Champions Series Cancer Treatment Centers of America tournament last November, bringing former world No. 1's John McEnroe, Jim Courier and a host of senior stars. In February of this year STRC played host to the United States' Fed Cup tie victory over Argentina, again drawing rave reviews. In addition, the site fields a smorgasbord of USTA activity, fielding several USTA League teams, plays host to a full menu of junior and adult USTA tournaments, and several USTA Southwest Section championship events also.

"This place is perfect for an event of this magnitude, and the weather here is just spectacular," said Shanley Boike of the University of Michigan Club Tennis Team. "We've maybe played outside like three times this year total, so this place is a dream."

    • Surprise Tennis & Racquet Complex
    • 2009 USTA National Campus Championship

    • University of Kansas Club Tennis Team

    • University of Michigan Club Tennis Team
Have A Great Story To Share?
Do you or your club tennis team have a great story to share?  We'd love to hear about it - we're always looking for ways to promote you and your club tennis team in both local and national media outlets (i.e. magazines, newspapers, online sources, etc.).  Just fill out our Club Tennis Team Media Questionnaire and e-mail it to tennisoncampus@usta.com.  We'll do the rest!