By: Jeff Sikes, USTA Southwest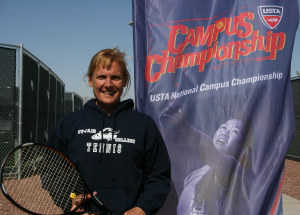 Andra Yanchenko, from the Lone Star College - Cy-Fair Club
Tennis Team at the 2009 USTA National Campus
Championship.

Andra Yanchenko will be happy if she just hits one ball, one solitary forehand or backhand at this week's USTA National Campus Championship in Surprise, Arizona. That symbolic occurrence will be considered a major success in her book.

The 49-year old from Houston, Texas and representing the Lone Star College - Cy-Fair Club Tennis Team might not be the best female player at this year's event, but she is no doubt one of the most inspiring.

A late arriver to the sport, Yanchenko picked up the game while in England seven years ago at the age of 42 and caught the tennis fever while living in the tiny 175-person farm town of Leighterton. Seven years of grass court tennis in England ignited a love and passion for the sport which she tries to share today as a continuing education Leisure Studies professor at LSC-Cy Fair.

After relocating to the States in 2007, Yanchenko found she had some neurological issues affecting her balance and tennis game and soon discovered she had Arnold Chairi Malformation Type 1. This required a full-blown brain surgery in January of 2007, and pretty much put the clamps on her tennis game for a year while on the road back from recovery.

While driving by the courts on LSC - Cy-Fair campus, she noticed some intramural tennis activity and was enthused, but wasn't prompted to participate until she had a discussion with Todd Carlson of USTA Texas, while helping out at a Special Olympics event earlier this year in Houston. Carlson told Yanchenko she should give Lone Star's Club Tennis Team, a Tennis On Campus program, a shot, and she did. What she found out about Lone Star's club – that they pretty much take all-comers and have a very tight-knit club structure – was music to her ears.

"Going in I'm thinking 'what chance does a 49-year old woman who's had brain surgery have of making any team?'" said Yanchenko, recalling her thoughts. "But when I met coach (Tim) Sebesta and found out the attitude and spirit of this team, and that I'd get the opportunity to play and practice, it was just like getting a second life."

Since March, Yanchenko has played beside and against competitors nearly 30 years younger than her and is playing well.

"I was playing in our match against Rice University a few weeks back and I won and I was so excited," said Yanchenko. "But it was great to hear my young opponent after tell me, 'You're as old as my mother is, but you're such an inspiration.'"

Sebesta concurs, and has seen the transforming effect Yanchenko's presence has had on his team.

"Todd (Carlson) sent her to me, and I think she was a little hesitant about trying out initially," said Sebesta. "I just told her, 'It doesn't work that way here, you're on the team and we are happy to have you.' We're a very community-oriented team, and our whole philosophy is just to get everyone we can playing tennis."

Yanchenko's community involvement with Special Olympics didn't hurt either. She has even led 10 of her team members to go through the certification process to become Special Olympics tennis instructors. That type of community service is indicative of not just Yanchenko, but the entire LSC-Cy Fair team.

The school qualified for this year's national event as USTA Texas' "Tennis On Campus Club Team of the Year" award winner. USTA Texas gives one of its' four automatic spots into the National Campus Championship to a team that earns that award. LSC - Cy-Fair also finished runner-up nationally for that award to the University of California, Davis Club Tennis Team.

LSC - Cy-Fair has helped put on a whopping 13 community service events in the 2008-2009 academic year, including collecting tennis equipment for the Liberian Tennis Foundation, supporting the Hurricane Ike relief efforts in Galveston, and just last week helped out at the CASE Grand Slam Jam, working with the Zina Garrison All Court Tennis Academy.

"This is a special week for me and for us," said Yanchenko, who is proud to not only be here for the adversity she's overcome, but because her school is the lone community college participating. "At the community college level there are so many opportunities to make a difference and I try to tell everyone to just share this sport with everyone .We are out here in the sunshine playing tennis this week because we've helped others try to love this game. How cool is that?"

    • Lone Star College Cy-Fair Club Tennis Team



    • 2009 USTA National Campus Championship

    • 2009 Tennis On Campus Award Recipients

Have A Great Story To Share?
Do you or your club tennis team have a great story to share?  We'd love to hear about it - we're always looking for ways to promote you and your club tennis team in both local and national media outlets (i.e. magazines, newspapers, online sources, etc.).  Just fill out our Club Tennis Team Media Questionnaire and e-mail it to tennisoncampus@usta.com.  We'll do the rest!