Welcome to the USTA TOC College Varsity Coach Section!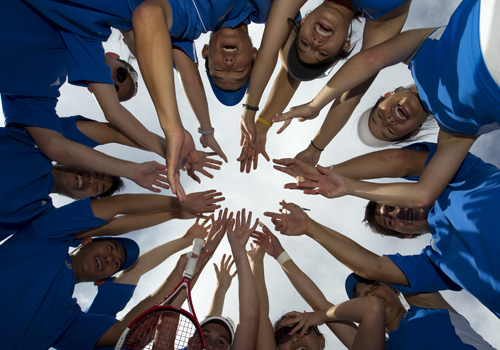 Tennis On Campus participants go all in during a team huddle
at the USTA National Championship!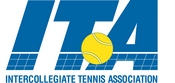 The USTA Tennis On Campus program parters with the ITA to
promote and develop the growth of all collegiate tennis - both
varsity and recreational.

Coach - do you find yourself year after year having to let go of dedicated, enthusiastic student-athletes from your varsity team simply because they just didn't make the cut?  We have a solution!  Are you interested in filling your stands and getting more support from the student body?  We have the answer!

Instead of sending college students packing, help get them connected to your recreational sports office where they can then start their own

college club tennis team

!  Through showing your support to club tennis you keep more students on your campus engaged in tennis and open a floodgate of potential varsity tennis fans, team managers, and more!  Together the

USTA

and

ITA

are working to promote tennis on college campuses - both varsity and recreational.  Learn how to use the USTA as a partner to benefit all tennis on your campus.

The Role of USTA Tennis On Campus:


- Help start new college club tennis teams

- Support and grow current college club tennis teams

- Run

National Championship

and

Section Championships


- Foster play opportunities through

college club tennis leagues

,

tournaments

, and dual matches

 
The Role of the College Coach:
- Mentor existing college club tennis team
- Help start new college club tennis team
- Promote college club tennis team to "cut" varsity players and others interested in tennis on your campus
- Engage college club tennis team in varsity tennis activities (supporting matches, community outreach, etc.)


The Role of the Student:
- Start and run college club tennis team
- Support varsity tennis team on campus
- Work closely with campus recreation professionals
- Recruit other students
- Secure courts, organize practices, arrange matches
- Fundraise
- Communicate with USTA Tennis On Campus staff
- Have fun and keep playing tennis


UC Berkeley gets fired up in the 2010 USTA National
Championship - Utilize Tennis On Campus as potential
supporters for your varsity tennis team!
Tennis On Campus offers coed team-based play, both regional and national championship competition and helps students maintain healthy, active lifestyles throughout their college career. Whether you organize the team yourself or just serve as the vehicle to get it started, get your school involved with the recreational movement of the future that already serves over 500 college campuses across the country and reaches over 30,000 students. These organizations, run by students for students, play in organized leagues, host tournaments and dual matches, experience the same rivalries you and your team do, and are a great competitive outlet for the 360,000 annual high school tennis players that will not have the chance to participate in a varsity experience when they get to college.

At this point you might be asking yourself what's in it for me and my varsity team. That's a good question. Having a club tennis team on campus provides numerous benefits to your program, student-athletes, campus, community and more. It can foster a positive varsity/recreational tennis relationship and lead to a larger fan base. It allows coaches to use the club team as an outlet when making varsity cuts. By using the club as a recruiting tool you can observe the club tennis participants maturing their game and developing the sport at your college or university. Plus, you can receive national exposure through the USTA and other partner organizations. It allows coaches to better utilize campus tennis facilities and potentially increase revenue through events brought to campus by recreational tennis. The benefits don't stop there - check out our Top 25 Reasons Why Varsity Coaches Should Get Involved today!.


"Initially it was hard to get the club tennis team going because of all the hoops we had to jump through, but once the administration heard about our plans and saw the benefits of having a club tennis program on campus they were all for it. My varsity tennis team works closely with the club tennis team and we have never been affected negatively by the clubs use of our facilities. Every Tuesday night, alongside my varsity players, we help lead the club tennis team in drills and act as hitting partners.

I wish we would have created a club tennis program on our campus years ago. It has been one of the best decisions I have made. The club students are really involved. We have more fans at our matches, the student body is more involved in our varsity program, we are getting more people out on the court, and students are getting excited about tennis!"

- Adam Steinberg, Head Coach of Men's Tennis (9 years) - Pepperdine University

It's easy and you don't have to do the majority of the work. Simply introduce those that don't make the varsity team and other students that show interest in club tennis to your recreational sports department. From there they can learn how to form their own club and participate in Tennis On Campus. With just a few effortless steps you can get on track to making a difference on your campus and in your varsity program!  To make things even simpler check out our "Five Easy Ways to Make a Difference on Your Campus."

"Initially, I started a Tennis On Campus club because we didn't have a men's team. After two years of Tennis on Campus, Biola reinstated our men's team. We now have a core of men as well as women who played HS tennis who aren't at the varsity level. It is great to have an option for those students so they can keep in the game they love. I have students who organize the group now. The first month of school our program involves our club tennis team and other students on campus in a recreational tennis experience that has helped the two groups get acquainted. Getting to know those who play tennis and treating them with respect is key to their commitment to our varsity programs."

- Dee Henry, Varsity Coach – Biola University

For more information or if you are interested in helping get a program started send us an e-mail at tennisoncampus@usta.com.
"Towards the end of high school, everybody was telling me to play tennis in college. I knew I wanted to go to a Big Ten school but I also knew that the last thing I wanted was the commitment of a Big Ten varsity program. Lucky for me, my college's club tennis team was a great option for someone who didn't want the commitment of varsity or wasn't quite good enough for it, yet still wanted to maintain their game by playing a few times a week."

- Amy Erskine, Student - Birmingham, MI
Peter Smith at USC opened his varsity tennis facilities up to the USC club tennis team. The USC club tennis team showed up at the courts with their 150 member club team excited to say thanks and become members of the 7th Man Club, the USC varsity tennis team's fan club. Today, the 7th Man Club has over 400 members ready to cheer on their team with pride!

- USC Club Tennis Team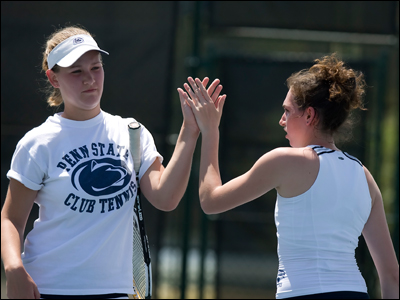 A Penn State doubles duo high fives during the USTA  National
Campus Championship!