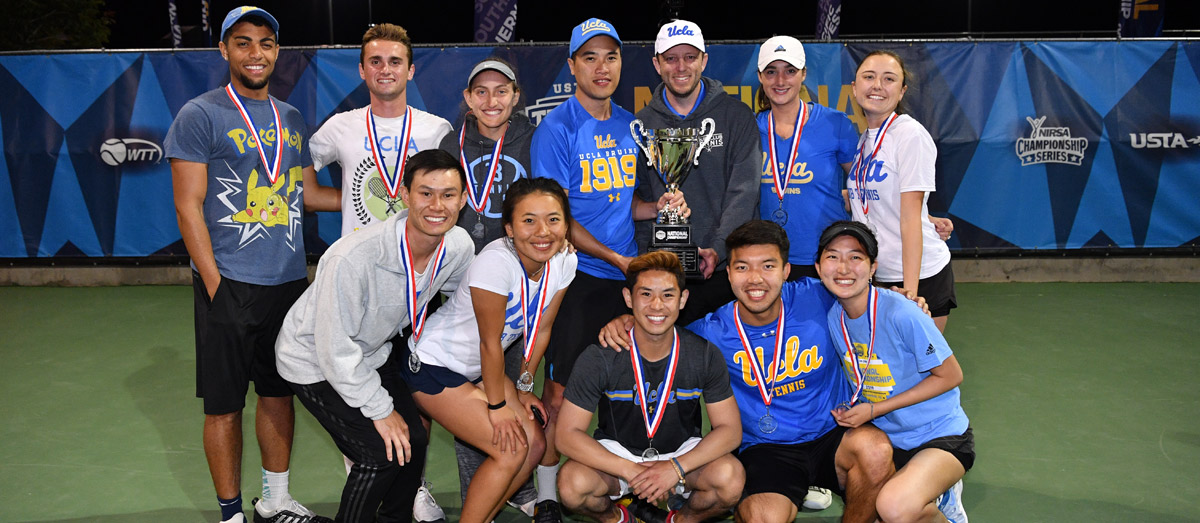 TOC on Facebook
2015 Pool Play Draws
As soon as the draws are announced, they will be posted here. Check back closer to the tournament.
2015 USTA Tennis On Campus National Championship Information
Date:

April 9-11, 2015
2015 Pools / Draws:
N/A
Venue:
Cary Tennis Park
Cary, North Carolina
Contact:
Valerie McCutchan


(541) 766-8211

(541) 766-8211

Local Information:

Click Here
Social Media at Nationals
The official #hashtag for the 2015 USTA Tennis On Campus National Championship is #TOCNationals. Tweet about your experience!

Also make sure to follow us on Facebook to check out the action around the ground, photos and videos that you won't want to miss.
2015 USTA Tennis On Campus National Championship - News & Photos
Check back soon for news about the event, photos and team profiles.
2015 National Championship Documents
Check back soon for Championship Documents.
Important 2015 Tournament Information
Dates:
April 8 - 5:00-7:00pm Team Check-in
7:00pm

MANDATORY

Coach / Team Rep Meeting
April 9 - Team Play - first matches at

8am

, plan accordingly
April 10 - Team Play
April 111 - Team Play - all teams will have matches on Saturday
Final Match with Awards presentation following the match
Location: Cary Tennis Park, 2727 Louis Stephens Drive, Cary, NC 27519

Entry Fee: $275
Roster Deadline: Mar. 9, 2015
Entry fee, team rep contact information, and roster information for one player will be the only items needed for the initial sign-up (pre-registration). Registration link will be emailed to team rep. Teams will be able to change roster up until Mar. 9, 2015. After this date roster will be frozen and changes can only be made with approval from tournament co-director Valerie McCutchan. Enrollment verification forms will be sent via email to team reps by March 14. This form will need all participants' signatures, and must also be signed by sport club director and the university registrar.
Teams must qualify at their USTA TOC Sectional Championship or received a bid from another TOC tournament. For more information, please contact Valerie McCutchan.

Qualifying: Each USTA TOC Sectional Championship has a set number of bids, please review for dates of your TOC section event. Only one team per school will be allowed in the Championship.
Tournament Format: World TeamTennis format. Teams will play "Round Robin" or "Pool Play" and then advance into bracket play – compass draw. Teams are guaranteed seven matches (if all teams show up for scheduled matches). *All teams will have matches on Saturday*. A match consists of five no-ad sets and includes men's singles and doubles, women's singles and doubles and one mixed doubles.
Rules for 2015:
• All rostered players must have played in two events representing their team/school in the same academic year. An event is considered a dual match, a tournament, or a USTA Section Championship.
• A player may play in only two sets per match, whether as a starter or a substitute (excluding the Supertiebreaker).
Teams: Minimum of 4 players (2 men, 2 women); maximum 10 players.
Eligibility Guidelines: There were changes made in the summer 2010. Please review the NCCS Eligibility Guidelines carefully.

Tournament Hotels:

Embassy Suites Raleigh – Durham/Research Triangle, 201 Harrison Oaks Blvd., Cary (919) 677-1840
(919) 677-1840 Rate - $109 + tax, free breakfast, free wifi, & coin laundry.

Rental Car:

Enterprise Rental Cars will have special rates for tournament participants. They also will allow drivers under the age of 25 (but must be at least 21 years old).

• To set up a rental reservation by phone simply call 1-800-RENT-A-CAR
1-800-RENT-A-CAR FREE and give the booking agent your company Corporate Discount number (CD # L53E229).

• To set up a rental reservation online, go to www.enterprise.com, after selecting the location, date
and time of the rental, enter your Account# L53E229 in the Optional field under section #3, click Search and you will be asked for your pin#, (NAT), then click sign in. On the next screen, chose the car class that's preferred then click next. On the next screen put in the renter's name, phone and email address and click next. The next screen will have the estimate of the rental. Click on Book now to complete the reservation.

Contact Valerie McCutchan if you have additional questions.