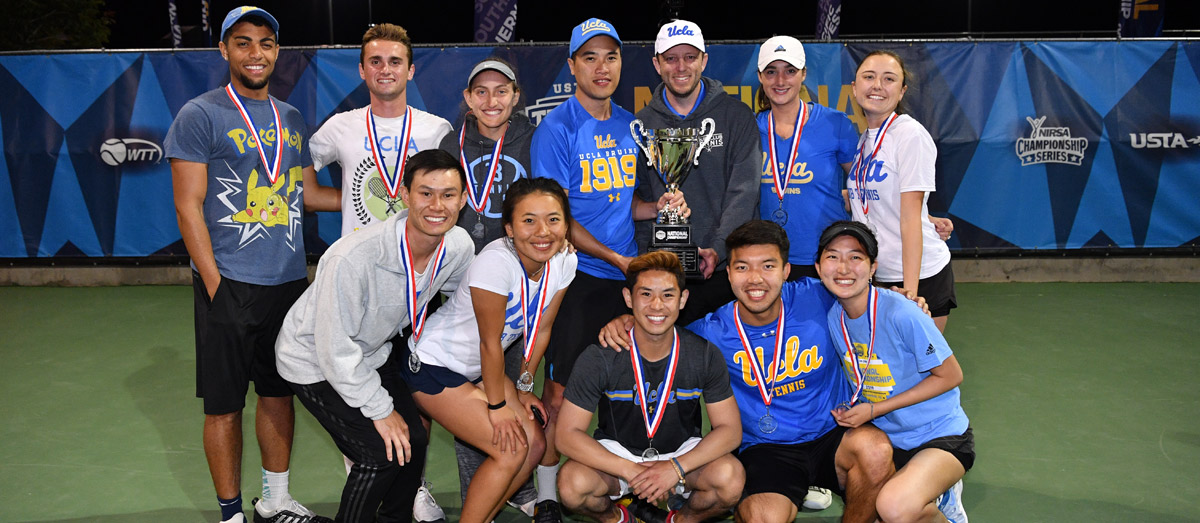 Steven Azeka - California Polytechnic State University Club Tennis Team

Steven Azeka is currently a 5th year undergraduate electrical engineer doing additional graduate work in education.  He works at a local elementary school during the year and spends his summers working with Teach for America.  The California Polytechnic State University Club Tennis Team was established in 2007 and officially joined the Tennis on Campus program in 2008.  Steven has been the club president for the last couple of years and enjoys the company of several dedicated club members.  The Cal Poly Club Tennis Team has a variety of different tennis programs including an organized team league.  Over the last year Steven has had the honor of meeting many other Tennis on Campus leaders and is looking forward to meeting many more at the 2009 USTA National Campus Championship.
4/26/2009 - Day 2
This was by far our longest day!  Early in the morning while eating breakfast we took a look at the draw.  We found out that if we won both of our matches in the bronze draw we would only have two matches that day.  This was an important incentive because my team wanted to finish playing as early as possible (even though I could stay out there forever).  Despite the extra words of encouragement we lost our first match to ASU.  With the slow start we continued to push through the day wining our next two matches.  This placed us in the consolation finals of the bronze bracket.

The coolest part of the day was meeting all the different club leaders.  I found out that Danny from University of Michigan is going to be working at the same facility as me this summer (What a small world!).  The club members from Texas were all welcoming and had the neatest accents.  Finally, I had a chance to talk to Justin Street, which is always an honor. If you see him walking around you should feel free to bug him as much as possible! (Just Kidding)
4/18/2009 - Day 1
Our first day was full of challenges and difficulties (a nice way for saying that we went 1-2 for the day).  Despite our record we still had an amazing time meeting new teams.  There wasn't a single team that didn't welcome us with open arms!  It's always refreshing to be able to play in a competitive atmosphere while maintaining a level of fun.  I can safely say that this has been the best experience in my tennis career thus far!

Further details are on the way about the rest of the tournament!  I'm sorry to be brief but we have a match soon and there are people lining up to use the public computers in the Surprise Tennis & Racquet Complex!
4/13/2009 - Go California
I hope everyone had a wonderful weekend!  There are only a couple of day lefts before our departure for the USTA National Campus Championship.  Everyone on the team is struggling to finish all the schoolwork before we head out.  Fortunately for us, our schedule has midterms planned for the following week.  Everyone is expected to have a lot of fun, but studying is a top priority during the breaks.

The final draw was sent out the other night and we have several tough teams in our pool.  I have every once of faith that we'll rise to occasion and give the larger schools a run for their money.  Quoting one of our players, we'll have to "do work!"  Despite our situation we'll also be cheering for all the other teams from California.  I've had the fortune of working with all seven teams coming from the great state and wish them all the best of luck!

This being one of the last blogs before heading out...I want to wish everyone a safe travel!  I can't wait to meet everyone!  If you see me walking around, feel free to stop me and say hello!
4/6/2009 - UCSB Tournament
Hello!  I hope all is going well - I can't wait to go to nationals!

Last weekend our tennis club participated in a wonderful tournament hosted by University of California Santa Barbara (UCSB).  I have to point out that Ryan DePuit (President of the UCSB team) did an exceptional job organizing the tournament.  Over the last year, our two teams (UCSB and Cal Poly) have forged close bonds being the newer teams in the state.  We've seen each other grow from the start and find new ways to better our clubs.

With regard to Nationals, we're in the final planning stages.  Reservations for hotel and transportation have been taken care of.  We currently plan on leaving Wednesday morning and stopping off at UCSB to caravan with them.  After the Nationals our team plans on swinging by Las Vegas to celebrate our first season as a club!  It would be a dramatic understatement to say that everyone is excited about going to nationals!
3/30/2009 - Securing Our Bid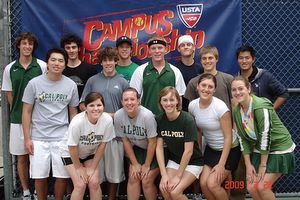 The Cal Poly Club Tennis Team at the USTA Campus
Championship - Southern California.

Our club just started again after a wonderful spring break.  Everyone is really excited about our entry into the 2009 USTA National Campus Championship.  For a while our team was unsure of whether or not we would be extended a bid.  We made sure to sign up as soon as the entry forms for nationals were made available since our USTA Campus Championship - Section Event hadn't taken place yet.  However, silly me, I set a reminder to sign up for nationals without regard of the Eastern Standard Time change.  I didn't realize the mistake until a couple of hours after registration opened.  There was additional emphasis on doing well in sectionals because of late registration.

Since this was our university's first USTA Campus Championship - Southern California, our team was unsure of how well we might do compared to the other teams that placed in nationals in prior years.  With our goal on securing an automatic bid, we fell one spot short (3rd with the top two obtaining automatic bids).  I was extremely proud of our team regardless of the results.

Over the last year we've overcome every possible obstacle (administrative, location, facilities, funding and everything else) and our team still manages to hang on. We obtained an email regarding our waitlist placement (8th at the time) and waited for our final entry into nationals until a few weeks ago. Since then we've been scheduling and planning…  More about that in my next blog entry.