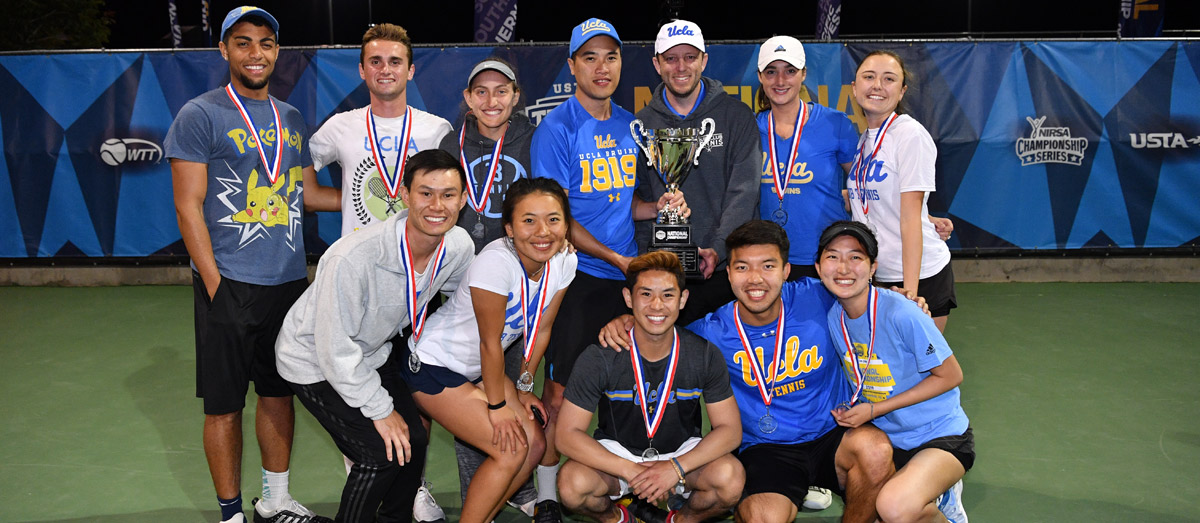 William Haselbauer - University of Tennessee Club Tennis Team

William Haselbauer is the President of the University of Tennessee Club Tennis Team and is in his final year of graduate school studying plant sciences.  This is their first full year for their club.  Before beginning his graduate studies at Tennessee, he was the President of the University of Minnesota Club Tennis Team where he completed his undergraduate degree.  The University of Tennessee Tennis Club is open to all students who have an interest in tennis.  From just 10 members in spring of 2008 to nearly 50 members now, the Tennis Club has seen tremendous growth in the past year.  The Club consists of a competitive and practice team.  The competitive players are involved with the practice team in that they run the practice team practices.  This helps bridge the gap between the two teams.  In addition to our time spent on the court, they also have gatherings off the court to build an even more unified team.  After a great first year, they are looking forward to next year by expanding their club, match schedule, event schedule, and even plan to host a major college club tennis tournament.
4/18/2009 - Arizona Sun
Hey all.  Things are going great here in Arizona.  The weather has been awesome and Surprise has a great tennis complex.  Our first match on the second day was against South Florida and it came down to a Supertiebreaker.  It is so nerve racking when you get into that situation but it ends fairly quickly since you only play to seven.  In the end South Florida pulled it out by four points.  We finally got our win though when we played Drexel in our second match.  We were all excited and I promised everyone ice cream later.  For our third match we finally played at the main complex and it was a great experience.  We had a tough match against University of Delaware, losing only by two games.  We were all exhausted after the days play so we went to dinner and by the time we thought about doing anything else back at the hotel we were all asleep.  We are looking forward to the banquet though.  Talk to you later.
4/17/2009 - Auxiliary Site Blues
Well, we are here in Arizona and have finished our first day of play.  Everyone had a great time today but as for our tennis game it was just one of those days for Tennessee.  We got placed into a pretty strong pool, Pool H, so we knew we would have to play hard to win our matches.  Our girls did a great job for us and kept our team fairly close in all of our matches.  We lost our first match to Penn State by only 6 games and experienced overtime in mixed double for the first time.  We won two in a row and lost our third, but it was kind of exciting.  We had a large cheering section because my old alma mater, University of Minnesota came and cheered us on.  Their president Brandon Jackson even knew our school song, Rocky Top.  It is a very unique song so listen to it if you have the time. Here is a you tube video of the band playing it at their pre football game march: http://www.youtube.com/watch?v=OxhphpTJWA8&feature=related.

Our second match against UCLA was also close.  We only lost by 7 games.  Our third match againsWestern Washington University Club Tennis Teamt Western Washington University was tough and we ended up losing.  We are looking forward to more tennis tomorrow and in our second match finally getting to experience a match at the main complex.  For now we are off to find a good Mexican restaurant now and looking forward to the Bronze Bracket tomorrow. Talk to you later!
4/10/2009 - Pizza Snafu
Final preparation is underway for the USTA National Campus Championship.  We are looking forward to next week.  I think everyone going to the tournament is feeling the stress of the end of the semester.  Personally, I am missing two tests and will have to take them when I get back.  I usually find it really easy to study during these tournaments so it should be okay…maybe not.  It is worth it though and I can't wait to get to AZ.

Our club has been keeping busy during the last week.  We went to a tournament at Virginia Tech this last weekend.  It was a lot of fun.  The tournament went very smooth and they did a great job of running it.  One of the best parts about it was the hotel rooms.  Every room had a 50 inch flat screen on the wall.  So any worries we had about not watching the college basketball tournament were taken care of.  On Saturday night we made it back to the hotel for the end of the first game and we ordered pizza for the second game.  And you know what?  They screwed up eight of our pizzas so they brought us eight more of the right kind.  Booyah!  So pizza was on the menu for breakfast and lunch the next day.  Our first team placed fifth in the tournament and everyone had a lot of fun.  We are going to hold a tournament in the fall in Knoxville, a beautiful city only 30 minutes from Great Smoky Mountain National Park.  Hope to see everyone here in the fall too.  Well that's it for now.  Talk to you all later and check back soon.
3/30/2009 - 2009 USTA National Campus Championship Prep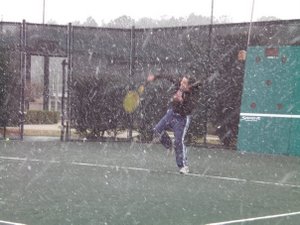 Hope the weather in Arizona is as nice as it was in Alabama!

Now that we have fully recovered from playing in the snow at the USTA Campus Championship - Southern (see picture), Tennessee is now focusing on preparation for the 2009 USTA National Campus Championship.  With the intense competition in the Southern section, we finished sixth and did not receive an automatic bid to nationals.  We did however secure an at large bid.  I remember sitting at my computer at 12:00pm waiting for registration to open.  I think I had our bid in within five minutes of the link opening.  After receiving our bid to nationals the task of convincing people to miss half a week of class started.  Since the national tournament takes place on the last full week of classes for us it took some convincing but we were able to put a very strong team together.  With a solid roster we decided it was time to buy our plane tickets.  Now Knoxville is a pretty small city, so flights from here are a little expensive.  We decided it would be best to drive to Nashville and fly Southwest Airlines from there.  No worries though, we enjoy road trips.  We have some self proclaimed great singers on the club team and plenty of music on our iPods to back them up.

Along with travel arrangements, match preparation is very important for nationals.  We are looking forward to a tournament at Virginia Tech this weekend to get us ready for nationals.  We have also been playing numerous challenge matches during practice.  We want our doubles teams as comfortable as possible when playing together.  Well with the weather dropping to 40 degrees today in Knoxville we can't wait to get to Arizona. See you there!