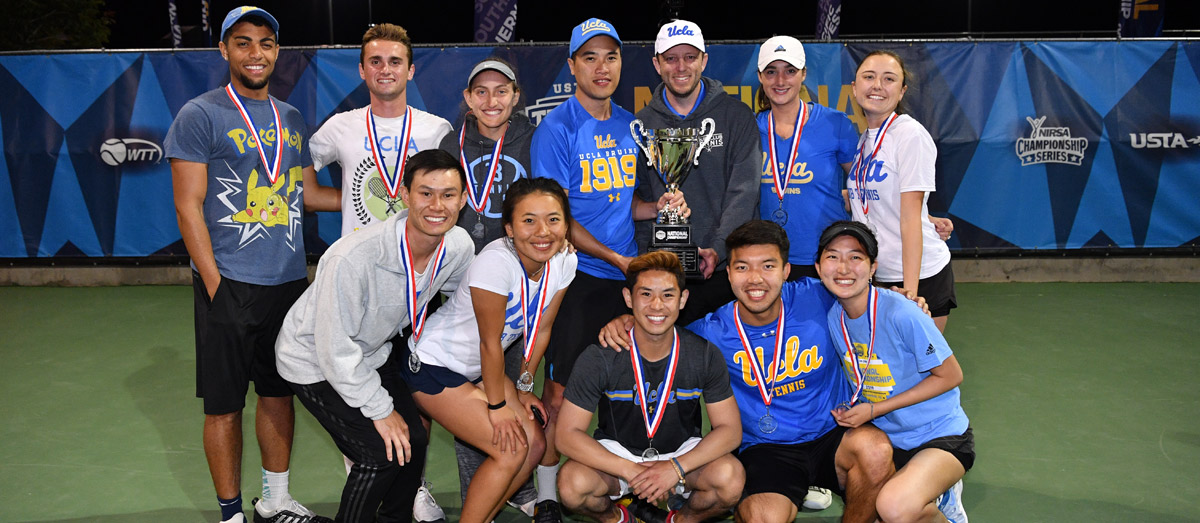 Evan Smith - Arizona State University Club Tennis Team

Evan Smith is a Junior, and is the President of the Arizona State University Club Tennis Team.  His hometown is Pasadena, California, and he loves sports in general, but has a great passion for tennis.  The ASU Club Tennis Team started in October of 2007, and holds practices three times a week - and if they're really motivated, sometimes the club practices on the weekends.  The ASU Club has a lot planned for next year, mainly though hosting a tournament to help spread Tennis On campus throughout the USTA Southwest.  Their club thinks of themselves as students trying to rejuvenate the love of tennis at ASU, after our sudden lost of the ASU men's varsity tennis team.  It seems like after that happened, we have more and more people coming out to play tennis.
4/16/2009 - Tough First Day
This day was a crazy day for the ASU Club Tennis Team.  The day started with us being technically the host school of the tournament, with our campus being 40 minutess away, and somehow we still managed not to have a full team to start our first match, so not the best way to start out.  But the one thing that I love about our team is that we are resilient, and even though it was a minor setback, we still went to work and played well and won our first match.  The next couple of matches were tough for us and we were unable to pull them out.

This day was particularly tough for me, being the captain, president, friend, and teammate.  It makes me ask the question where do we draw the line on having fun and enjoying the game or being extremely competetive and forgeting why we are here playing?  Thats a hard question to answer, and I still don't have an answer, all I know though, is that the ASU club team came with very high expectations.  Personally, I am proud of my team for making the USTA National Campus Championship, and winning the USTA Campus Championship - Southwest, considering we have only been around since October of 2007, and being my first year as president.   We might not have done what we had hope to do, but (and my team will kill me for saying this) part of me is happy because now we can enjoy each other and have some fun playing tennis, instead of putting all this pressure on each other.

I  can go on all night, but I will leave it there.  The quality of tennis here has been outstanding, and being this my first year, well ASU's first year, I am very impressed on the level of play.  I am having a great time here, and can't wait to come back!!!  But ASU will still play hard, and we will have so fun too!!!  Good luck to the rest of the teams!!!
4/13/2009 - 3 Days To Go
What a crazy week last week was - with all the tests and papers due, and finishing the week off with the team playing in the Tucson Invitational.  Our team didn't have our best showing at the tournament, but overall it was a fun trip and the University of Arizona Club Tennis Team did an outstanding job hosting the tournament, especially since it rained all day Saturday, pushing everything back to Sunday.  It was hard for my team to get motivated for the matches, since we were on and off the court trying to play in between the rain.  But considering all that we finished 3rd right behind the University of California - San Diego, which was an outstanding team.  Thanks again to the University of Arizona for putting on the tournament.

Its amazing that the USTA National Campus Championship is only 3 days away, and all that we have been working for is just around the corner.  As I am sure everyone else is doing, our team is trying to get our academics in order so we are able to play in the tournament.  I know a few of us might be missing some tests or important lectures so that is difficult to handle.  I know at least for myself, I have a few papers and projects due during the time of Nationals, so every chance I get I will be on my laptop trying to finish them and making sure I get them in on time.  Fortunately, for us we don't have to travel very much, since Surprise is about only 40 minutes away from us, so I am certain we are traveling the least out of everyone.  With that said, this will be my last entry before Nationals, since the next couple of days will be hectic trying to get my academics in order, and make sure we have everything ready for Nationals.  I hope everyone has a safe trip.  Every one will love Surprise, the tennis center is really nice, a couple of our players have had the opportunity in the beginning of the year to play there, and we all loved it.  I wish everyone luck, and hope everyone has a good time!!  See you in Surprise!!
4/8/2009 - Arizona Invite
This has been a crazy week, I have three tests tomorrow, and one on Friday, and papers due this weekend.  Its these weeks that makes it hard at times to focus on being President of the club tennis team, when you have so much other stuff to do.  But on a positive note, the USTA National Campus Championship is about a week away and the team is getting really excited about it.  As we are getting ready for Nationals, I have been talking to a couple of the players about strategies, and we have come up with a lot of great ideas to utilize our team fully for nationals.

I wanted us to get a few warm-up matches before Nationals, but sometimes it is crazy how fast time goes.  I mean about a month ago we just won the USTA Campus Championship - Southwest, and at that moment it felt like we had plenty of time before Nationals to prepare, but now I look back and wonder "where did all the time go?"  Even when I look further after Nationals its crazy to think that we have just a month left of school, meaning I would be officially be done with my Junior year.  "Yes!!!!  One More Year!!!!"

As this crazy school week is slowly coming to close for me, I am very much looking forward to our trip this weekend to Tucson and playing in the Arizona Spring Invitational.  This will be our last trip, well at least our last trip as a whole team.  I felt this would be a great opportunity for the whole team, the people who aren't going to Nationals get the opportunity to play some more matches, and the team going to Nationals get some warm-up matches and we get to practice some of our ideas we have planned.  Even though we will be practicing for Nationals, I know for sure we are going down there with the intention on winning the tournament.

As I would love to write more, time is not on my side right now and I have to get back to study and writing some papers.  As we all know, even though sometimes we might forget, but the reality is that we are students first.  With all that said I have to play student now, and put my president duties aside for the time being.
3/30/2009 - Southwest Champs
Wow, what I ride this year has been!  But a ride that I have enjoyed immensly and I am glad that our team can continue.  Being that this was my first year as president, and our club only being in existence since October of 2007, I had no idea what to expect.  One thing for sure though, is that I knew we had a good team, and I really wanted our team to win the USTA Campus Championship - Southwest.  Our team practices really hard, usually three times a week, sometimes even four, we have played matches against University of Southern California, University of New Mexico, New Mexico State University, and University of Arizona, and we play amongst ourselves.  On the weeks going up to Section Championship, we had the First Annual Duel in the Desert, which is ASU vs. UofA, and we had a great showing, and felt really confident going into Sectionals.

Sectionals was an amazing experience, tennis and having great quality time with the team is all the we could ever ask for.  The first day of sectionals was intense, we came to Las Cruces, N.M. with very high expectations, but expectations that we could fully meet.  The second day was by far more intense than the first, especially because both of our teams made the semi-finals.  It was something that literally all of our players haven't truly experienced before.  We all have been in pressure situations, but what is so great about the Tennis On Campus program is that there is a team aspect to it, and everyone was nervous beacuse they didn't want to let the team down.  Everybody stepped up, though, and we ended up winning the Southwest Championship.  I was so proud of my team, and it was an experience that I personally have never had before.  We came with high expecatations and met those expectations, but more importantly we had a great time, laughing, having fun, enjoying each other, and enjoying playing tennis.

After sectionals we had spring break, so it gave us the opportunity to rest after a long weekend.  It was kinda hard for us to get back into the thick of things because everybody's work load for school got a lot bigger.  Its hard sometimes to balance school and tennis, but one thing I always told the team is that school always comes first.  For myself its been hard at times being President, tennis player, and student, but I loved every moment of it.  I can't speak for the team, but having tennis practice actually helps get away from the stress of being a student, because at least for those couple of hours you can just focus on tennis, which for most people can be frustrating at time too!  As soon as we got back on track, we started practice in full force and preparing for the 2009 USTA National Campus Championship. We are super exicited that it's in our back-yard in Surprise, and we feel extra motivated to do well there.

Go Sun Devils!!!